Samsung's touch screen phone called the "Anycall Haptic2," is a very popular phone in Korea. You could say that this phone functions almost like Apple's iphone. Among the new features has a nice user friendly interface with lots of options for your customizable needs. I have no clue if a phone like this will ever be ported to America. Anycall Haptic2 is still brand new as of today in Korea.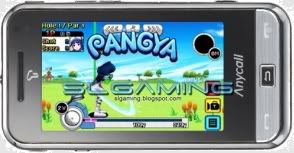 A big announcement from Hanbitsoft said that Pangya Mobile will be available to play on the Anycall Haptic2 phone. A unique function is that you are able to touch the screen to perform actions in the game. The game will automatically be loaded into the phone along with other mini-games bundled in the phone. Since this a mobile phone, don't expect many features. There are only 4 Characters to pick from, and are limited amount of courses to play. And if you are curious to know, Lucia is in the game. You can go solo in the cup mode to try and get as less strokes possible or you can hit it up online since that feature is implemented too.
Pangya KR will also be celebrating the release of the new Anycall Haptic2. There will be a page where you can enter the celebration event located
here
. Once you click on the purple box below the banner, you will be redirected to KR Pangya's main page. Log in first, and click on the game start link. Haptic2 mascot shaped just like the phone will be sent to your account directly,
not gifted
. Haptic2 will have a 30 day expiration date so use it wisely. This free mascot will be available till the end of September 2009, so you have plenty of time to redeem this mascot when you feel like playing some KR Pangya again.
Hitting a Pangya successfully earns +15 pangs. Not hitting Pangya earns +5 pangs. Useless? What did you expect from a free mascot? It's better than not receiving anything at all.