Hello Pangya players. Pangya Season 4 Delight will be having server maintenance from 4:00 ~ 8:00 AM that will last 4 hours. Eastern time converts to 3:00 ~ 7:00 PM. No delays has been announced. Servers will officially open on 8:00 AM. (7:00 PM EDT)
---
Content Update:
1) Updated Level Rank
- Infinity Legend I, II, III, IV, V
2) Card slots added to Marine Blue Accessories
---
Content Information: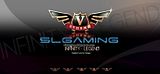 A new and higher leveling system will be implemented in the update. Players like kimsangchul123 who has reached the maximum level in Pangya KR will know have to work his way into the Infinity Legend path now. Now he's going to fetch some coffee and adult diapers because he's got work to do!

I haven't noticed until just now that the Marine Blue accessories did not have a card slot built-in. The update will have that fixed. Speaking of repairs, is Brie's Magic Box going to be fixed anytime soon? I really want to change my scratch item outfits, and it's not possible now since that option is not available.
---
This concludes the projectg530.pak update for the 7th of October in Korea.