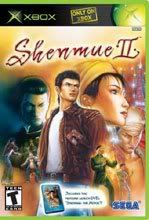 Finally, I got a hold of this game. I can't wait to play it tonight, but first I need to finish up Wario Land: Shake It for the Nintendo Wii. I think I'm halfway done with the game, and I only receive this game just this morning.
I've been waiting to play a game like this in a long time. Oh the nostalgic feeling I'm going to get when I get started! Will it be broadcasted on my Justin.TV channel? You bet.
Here are some more random & funny clips from Shenmue II. Redub at it's finest. I found it to be quite funny when I stumbled upon these two clips.
Ryo's Alcoholism
"I look like something? What?"
"Huh... Shit."

"Shit?"
Ryo's Sexiness
"Treasure it, Ryo!"
"I won't. That's why I'm sticking it in my back pocket."