Hello Pangya players. Pangya Season 4 Delight will be having server maintenance from 4:00 ~ 10:00 AM that will last 6 hours. Eastern time converts to 3:00 ~ 9:00 PM. A two hour delay has been announced. Servers will officially open at 12:00 PM (11:00 PM EDT)
---
Content Update:
1) Scratch Rare Update
- 27th Scratch Rare Set
2) Brie's Magic Box Update
- System will be entirely fixed once again
3) Halloween Sale Update
(10-21 ~ 11-11 : 3 week period)
- 2007 clothes for all female Characters
- 2008 clothes for all male Characters
- Candelabrum Hats, Devil Horns
- Halloween Skull and Pumpkin Phoenix Balls
4) Halloween Event Update
(10-21 ~ 11-04 : 2 week period)
- Halloween Skull Phoenix ball - Login attendance
- Halloween Drop event - 4 color candy boxes
- Exchange prizes - Brie's Magic Box
---
Content Information:

27th Scratch Rare - Cecilia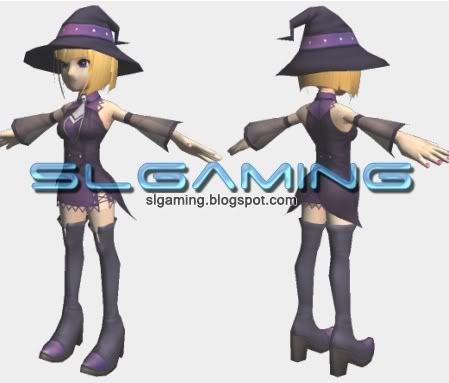 27th Scratch Rare - Hana
27th Scratch Rare - Kooh
27th Scratch Rare - Arin

27th Scratch Rare - Lucia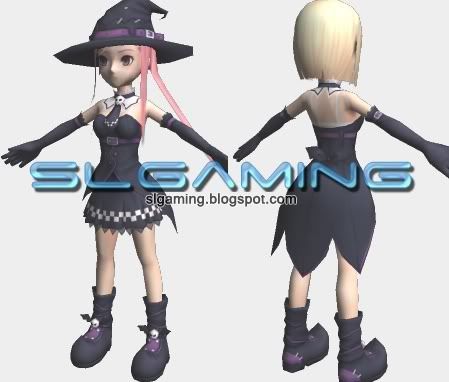 New Halloween Outfits for Cecilia, Hana, Kooh, Arin, and Lucia. This will be their 27th scratch rare set. This is the first time they released a Scratch Card set dedicated to the holiday season. The primary color for this set is purple, but you can change it to orange in Brie's Magic Box. The girls are set and ready to go trick-or-treating on Pangya isles.
The Halloween Outfits for the 27th set isn't all that's available. There are two more items.

Secret 27th Rare #1: There's another chance to win elf ears for Lucia. I find it quite surprising that they are releasing elf ears for her again. You may not see this opportunity again so get lucky if you win one.

So now we know that Lucia is the first mystery scratch rare item, but there's still one more left. It looks like Arin spotted a mysterious person or thing in the shadows. Who could that be?
OmgbbqPANGYAsauce no freakin' wai~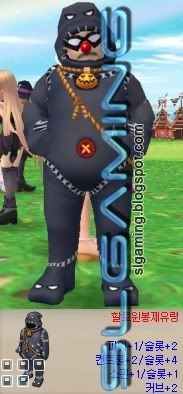 Secret 27th Rare #2: That's right, Bob is the mysterious shadow that you see in the banner. He will be wearing the boogeyman outfit. If you win this set, run around in PSquare to scare all the children away. Fear the Bogeyman Bob! Beware!



Magic box has been broken for a long time. They had to fix Brie's Magic Box once and for all or else it would be impossible to do the Halloween event. They struggled with it, and they still haven't fixed the problem when they opened the servers. Good news is that there's another repatch, and Brie's Magic Box has been repaired to it's full state.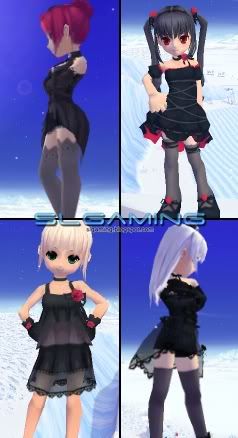 Last year's Halloween outfit for the girls has returned in the shop for a limited time. The guys (
Scout
,
Max
,
Bob
, and
Kaz
) will have their turn this year for some outfits of their own. Last year's accessory items are also back such as, Candelabrum Hats and Devil Horns are back. Candelabrum Hats (cookies) for all Characters, and Devil Horns (pang:30k) for males only. Sales end on November 11th.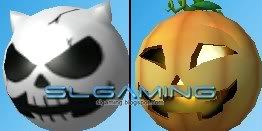 Phoenix balls from last year are back in the shop for a limited time. Halloween Skull and Pumpkin phoenix. I don't see any point in buying them if they are giving away so many phoenix balls for free. Sales end on November 11th.



Each day you login, you will receive 10x Halloween Skull Phoenix ball. You'll only receive it once per day, and you are able to obtain it up to ten times until November 11th. With so many free phoenix balls giving away, it looks like you will be having lots of Phoenix balls for a long long time.



Just like last year, you need to explore each courses to obtain different color of candy boxes. There are four different tasty treats: Orange, grape, kiwi, and strawberry. Just look at the map star to check which courses have the color boxes. You may receive the box for each hole you complete. The odds are low, but you must keep playing until you get one. A firework display with *pew-peew* sound FX indicates that you won a candy box! If you have the motion item (Bob's guns, Max's bike, Kaz's earring, etc) equipped, you will receive two candy boxes instead of one! You may also buy or sell these candy boxes in PSquare. This event will last till the 4th of November. A two week event.

Collect enough boxes and you may trade it in for a prize located on Brie's Magic Box. But you must gather four different kinds of candy boxes, not just one single color. There are a total of 4 items to choose from: Bat Mascot, Halloween Clubset, Halloween Cap, and Pumpkin Phoenix ball.


Bat is simply a mascot that only stays with you for a limited time of ten days.This mascot only grants you 10 Mascot Bonus Pang when you hit Pangya, and 5 Mascot Bonus Pang for Pangya miss.


Just 10 Pumpkin Phoenix Ball. You can simply ignore this prize unless you want it for collection purposes.



This will gift you a pumpkin cap for any random character no matter if you own that person or not. Yes, there will be a cap for Lucia for the first time. The cap is just for show, and it's a headgear item. The eyes do glow on the cap, so it makes it unique in a certain way.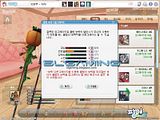 This club was available in last year's Halloween event. Players who missed out will have another chance to get this club set. So what's the catch for this club set that doesn't require any cookies from you? It starts out with zero stats. That's right, you have to upgrade this sucker with a lots of pang to make this club advisable. The good part is that it contains the full 12 control amount. When you hit Pangya, you will get a Halloween Pangya logo. You cannot sell or buy this club in PSquare.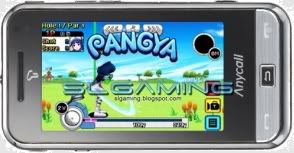 This is an old advertisement banner for the new Haptic2 phone. For more info visit
here
.
---
This concludes the projectg532.pak update for the 13th of October in Korea.
Another quick reminder that I hope you guys are crediting me for these translations if you want to use this info on your own blog or forum sites there. Thank you.

So what do you think about this update? And how much is Albatross18 going to get from Korea's Halloween content? Will there be a candy box drop event for this year that never came last year? Will A18 get the Halloween eCard set from Korea's 27th set? Guess you'll find out this coming Thursday.