A fresh reminder that Japan is still continuing on their Code Geass weekly update that goes up to five times. This week will be their 4th week to upload more content from the Anime hit series in Japan. So lets take a look on what has come out so far.
11-13-08
Zero Suit Outfit for Kaz. Also includes Lelouch's hairstyle for Kaz that I recently bought last week because it looks good on Kaz. Then there's C.C.'s outfit for Lucia. Equipped with a green hair wig and a very tight suit.
---
11-20-08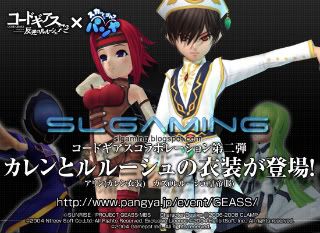 Lelouch makes another appearance, but with a different outfit. Kaz will receive another Lelouch's outfit when he became Emperor of Britannia. Arin receives Kallen's combat outfit. The outfit increases her bust size quite noticeably.
---
11-27-08
Surprisingly, Ken receives Suzaku's combat outfit, and Kooh gets Anya's outfit. So now all is left are Daisuke, Max, Cecilia, and Erika.
---
12-04-08
This update will have an outfit update for all of the Characters. On the banner, it shows four Characters that haven't received any attention during the Code Geass event. They will have their outfits available on this week's update as well as the rest of the crew.
EDIT: It was soon discovered that this week's update will not be the full Code Geass Character update like it has in the past 3 weeks. This picture shows the Ashford Academy high school outfit for Daisuke, Erika, Cecilia, and Max on the banner above.
For the fun of it, I already added my guess for the Character update below in case if it did happen. Remember, this is only for fun, not a real update. So here are the possible case for the rest of the remaining Pangya Characters that could have taken on the Code Geass role.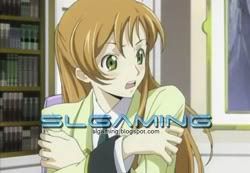 Erika (Hana) as Shirley. If they could get Erika's hair like Shirley, then that would be interesting to see how that would look. I'm tired of Erika's ponytail. Ken changed his hairstyle during the later Seasons, so why not Erika.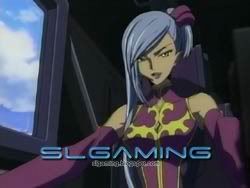 Cecilia as Viletta. Both their age are similar I suppose.
Max as Gino Weinberg. I would like to see Gino's hairstyle on Max. It could look pretty cool.
Charles Di Britannia, former emperor of Britannia. Yeah I can see this happening.
---
12-11-08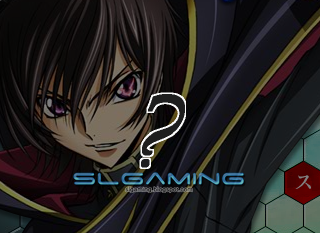 Not known yet.
---
Remember that all Code Geass content will end their sales on Xmas Day. Once it's removed from the store, there won't be a second chance.
Image Source:
Random Curiosity