It has been over a month since Korea made any decent updates on their servers. It seems that most of the updates are taking contents away instead of adding. Let's move the clock back, and take a look at their progress so far.
+

: added in update |

-

: content removal
10-28-08
- Coupon Drop event ended
- Free Angel Sea Urchin Phoenix Ball when you login each day ended
11-04-08
- Halloween Candy Drop event ended
- Free Halloween Phoenix ball when you login each day ended
11-11-08
+ Examinees Event for limited time
+ Double Pang and Experience until next maintenance time
+ Chocolate club and ball comes back again in Shop for limited time
- Remove Halloween content from Shop
11-18-08
+ 28th Scratch Rare
- Double Pang and Experience over
11-25-08
- Examinees Event ended
- Blue Marines content ended
- Chocolate club and ball content ended
12-02-08
- No update
---

KR Update - 12-09-08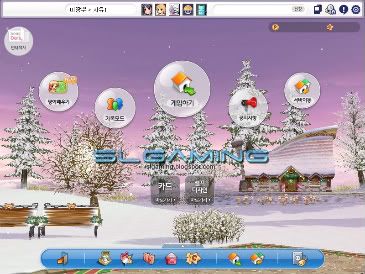 Background changes to winter season on main screen
Ok seriously, wtf. Maybe add in some clothes in the shop whether it'll cost cookies or not. I'm going to assume that they are preparing to mix both Christmas + Pangya Portable celebration event simultaneously. Next week's update better bring out something good that is worth the wait, because I'm losing interest in playing KR Pangya now. I did manage to find something to do like hunting for Lucia's PJ set, but I already finished that hunt in less than a week. I'm ready for something new and fresh to keep me playing for more.
There's a new banner added to promote their Pangya Portable game coming out on December 24th. It shows the Character's signature outfits from the PSP game. This is what it'll look like when it gets implemented into the PC version. Remember that you'll need the code that you'll receive if you purchase Pangya Portable to get these outfits. There's no picture of Lucia in the banner so it seems. It is strange that the article states that there will be 9 outfits that you will receive when you enter the code.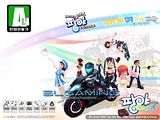 They changed the loading screen picture to this for now. Click on thumbnail for larger view.
---
Pangya Portable is becoming pretty hyped up over in Korea. The first wave of preorders located at CJ Mall for the limited edition box are sold out very fast. If you missed your chance, you can do online preorders on the 15th. But that will cost a little extra since you'll need to pay for shipping and handling. Those who are unlucky to get the limited edition will have to settle for either the expense PSP + LE bundle, or buy the game itself with no Kooh figurine.
Major Korean gaming sites like Gamecd already posted some preview screenshots of the game. Click on the thumbnail below for a larger view.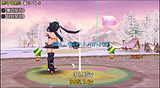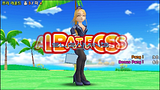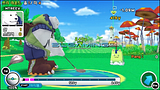 Sources:
Pangya.com
Ntreev.com - Preorder info
Gamecd.co.kr