Pangya Season 4 Delight on Korea will be having server maintenance from 4:00 ~ 8:00 AM. Eastern time converts to 2:00 ~ 7:00 PM. A one-hour delay has been announced. Servers will officially open at 10:00 AM (8:00 PM EST).
---
Xmas Content Index
1) New 11th Black Papel Rare
2) New 29th Scratch Rare
3) Holiday Sales Event
4) Hole-Cup Stockings Event
5) Sweet Potato Event
6) Snow Storm Event

---
1) New 11th Black Papel Rare
Devil's Tail makes its way to Black Papel's Lotto. The tail will be available for every Character so there will be a total of 9 rares in this set. The tail will obviously equip to where the tail should be located, and it has its own equip slot. The tail grants you Accuracy +1. It is said to have a special mysterious effect inside, and yet nobody has the slightest clue on what that is. Since nobody knows what it does, people are selling them for around 300-600k PP. Lucia is almost around 900+ PP when the tails first came out. But the price should be lower now.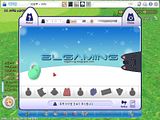 Won the first Red Papel for Cecilia. Second red bag failed me. Second picture doesn't show me selecting the dolfini balls right away, but at the end I was left with nothing.
Demonstration of Devil's tail equipping on Cecilia.
---
2) New 29th Scratch Rare
Snowflake outfit sets for Nuri, Hana, Lucia, Max, and Kaz.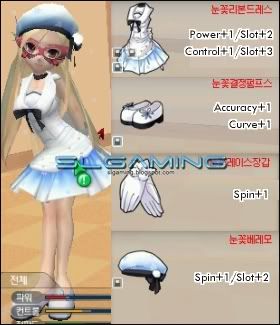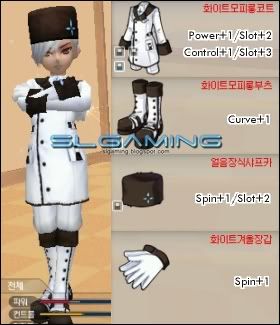 ---
3) Holiday Sales Event
2007 Christmas outfits makes another comeback for this year. Since Lucia is the new addition this year, she will be getting her Christmas gear as well. The only thing missing is her red gloves which I still don't understand why they left that out. Snowflake Phoenix ball is also on sale in the shop. As for the Christmas clubs, it can only be obtainable through the Stocking events. It's not on sale like Albatross18.
Now it's strange that Japan's Christmas update doesn't contain antlers for all Characters. Also, there is no snowflake hairpiece for all of the ladies either. So the only headgear Japan has are the hats. Well, at least the outfits for the guys only costs pang instead of cookies. So major props for them. As for Korea and A18, everything will be cookies/astros.
Sales end on January 6th. Another thing I find strange is that when you right-click seasonal items in the shop, it will tell you how long it'll last in the store. However, if you check Lucia's Christmas gear and snowflake phoenix ball, it doesn't show an expiration date. Maybe they just forgot to add it in there. I just wanted to point that small and probably not-so-important part in there for the lulz.
---
4) Hole-Cup Stockings Event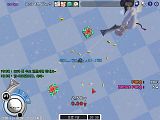 The rules are the same case as any other hole-cup drop event. Just sink your ball into the cup, and hope that it'll pop out. *pew-peew* If you equip the motion items (Kaz's earrings, Bob's guns, etc) you will receive two stockings instead of one. You may sell or buy Christmas stockings in PSquare. Stockings will be removed from everyone's account once the event ends. They will probably end the hole-cup event first, and have your stockings remained on your account for one more week before they will remove it.
As you collect stockings, you can trade them in Brie's Magic Box. Either you want a new sweater to stay warm, a reindeer nose, or the jolly good ol' Christmas Club to get into the holiday spirits. Lets take a look at their wares.
Trade in these items for a sweater of your choice. Lucia included. Sweater gives you Power+1, and can be sold or purchase in PSquare. Guys get blue sweater, and girls get red.
Trade in these items for a reindeer nose of your choice. Lucia included. Reindeer gives no stats bonus, and can be sold or purchase in PSquare.
Trade in these items for a Xmas Clubset Version 1. This club first became available back in 2006's event. This club was the only one available at the time, and now it makes its second appearance for players who missed their chance to get this club set.
Trade in these items for a Xmas bag. Inside that bag contains Version 2 of the Xmas Clubs. In order to get Version 2, you will need this bag along with Version 1. So don't get this bag just yet if you haven't obtained the Version 1 clubs yet.
Trade in these items for a Xmas Clubset Version 2. Both the bag and this upgraded clubset came out last year, and now it reappears for players to get another chance of obtaining this clubset. The stats are improved a small bit, but it still lacks the full control boost. However, it has incredible Spin and Curve.
Stocking event will last until December 30th.
---
5) Sweet Potato Event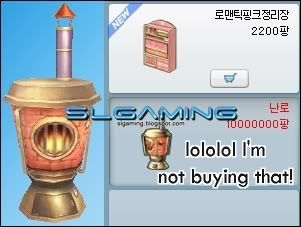 [It's available only in Brie's Magic Box since this is an error that was not meant to be purchased]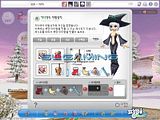 You can set your fireplace in your PAD room place. You can only get two sweet potatoes per day, and friends could come in and take some if they want. So be careful if you don't want anybody to take your potatoes. Uncooked potato rewards you with 5% exp boost, and a cooked potato gives you 50%.
Trade in these items for a fireplace item. You can set this in your PAD room, and you will have to click on it to receive your potato. You may receive either a brown or golden brown potato. Brown Potato gives 5% exp and golden brown gives 50% exp boost. You can receive a regular brown potato pretty commonly, but golden brown is rare to obtain.
Sweet Potatoes will be located in your inventory, and may be activated anytime you want. Once you use one, it will last for two hours. It's almost like you are using a time-slot card. You may also combine the 10% exp card with the sweet potato too.
You may also share them with your friends. You can only get one sweet potato a day, but your friend(s) can get two a day from your fireplace. So if you feel like sharing, be sure to invite them over to your place. I'm sure Kimsangchul would be "delighted" to take some potatoes from you. : )
Sweet Potato event will last until December 30th.
---
6) Snow Storm Event
Pangya's weather forecast mentions heavy snowstorm in the icy region. Most likely in places such as White Wiz, Ice Cannon, and Ice Spa. They said bad weather has occurred already and will last until December 30th. Basically every single hole will snow with 2x Recovery Bonuses. Players are encouraged in these courses for double the pang amount!