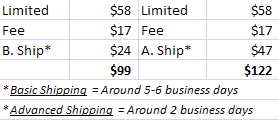 Finally, I'm able to get the price down for Pangya Portable Limited Edition set. I don't know if this price may be a shock to you or not, but this is as good as I can get. This will cover your LE box, shipping cost, and for the effort from the person in Korea that will stay up all night to get the preorders for you all. The supplies are low as expected, but we'll see what happens around tomorrow to find out how many are pre-ordered. I hope it'll be enough.
Now I need to know how many of you are still wanting to purchase the Limited Edition bundle after knowing the price. I need to know ASAP so the person knows how many to preorder just in case. If you are still interested, please post right away. Deadline is around 8:00 AM Eastern Time on December 9th to tell me. I know that's a very short time,
s
o post here if you are absolutely sure you are buying
. Thank you.
EDIT: Information on when or how to pay will come later after I know how many LE have been preordered first. Remember that payment options will be Paypal, Money Order, or Personal Checks.
Limited Edition bundle set
:
- LE Box Art of Arin
- PC Card for Pangya Season 4: Delight PC game for benefits
- Papel PSP cover
- Kooh figurine
- Pangya Portable OST (59 tracks)
Do it for the Kooh figurine! Chu-waaa~