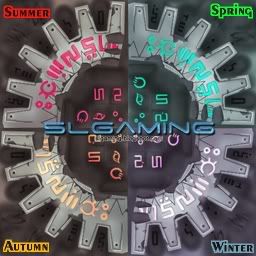 In Season 4, when players complete a game, they will receive item rewards from the new treasure box feature. In a rare chance, you may end up obtaining a mysterious cog. You check your inventory, and you definitely see it. The problem is, what do you do with it? There are players who are selling the cogs in PSquare with a different price range. When these cogs was brand new at the time, players were selling the cogs for over a million pang. Then it was concluded that there are 4 different color of cogs with each representing the season. So what would happen if you collect all 4 of them?
Many players (like myself) have gathered the 4 mysterious cogs together. So what happens next?! What does it do?!
You will be able to attach all of them together for
THIS
!
That's right! Pretty good isn't it? It was definitely obvious that you collect all of them to make it into a headgear for that caddy. So am I joking about this? Well... I am. lol
So on with the truth, there has been word that you will be able to use these cogs in Brie's Magic Box that will be implemented later on. That's all that has been said about it. So if you have all 4 cogs sitting there in your inventory, just hold on to them I guess. It may be worth it.