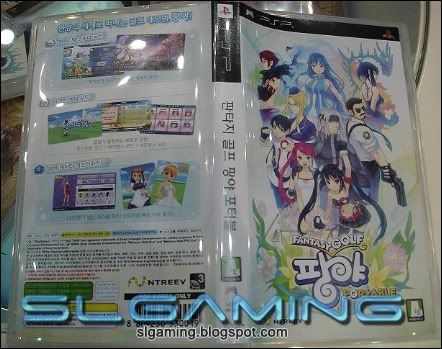 Pangya Portable is almost near to be released in Korea. So lets talk about the Characters that will be in this game. Pangya Portable will have up to 18 playable Characters.
You will start out with the first batch of Characters like you've seen in the trailers, then you will work your way through unlocking more as you progress in the game. I have looked over the trailers numerous times, checked out the new Pangya Portable site that launched last week, and looked at several pictures. I was able to examine all of these, and put them together to uncover the new Characters very easily.
Remember this picture? Well I've pretty much uncovered their shadowy faces, but I have no background information since that part is unknown as of now. So I'll pretty much make assumptions from here on out about some of these new Characters then.
Starter Characters

Nuri
Nuri decides to give up the short spiky hairstyle to improve his looks toward a certain someone. He is excellent with control, but still has lots to learn to fully experience the game. With the aid from Pipin, these two will work together to overcome any obstacle that comes in their way.
Hana
She may not look at it, but she devotes himself to practicing day and night to improve herself. Quma thinks she may have a lot more to learn, but she thinks she is skilled enough to take on any challenger. Though she really wants to improve, she still wants to enjoy a relaxing game of Pangya regardless on who is the victor.

Azer
An ex-cop who decides to take a break from law enforcement to enjoy a quiet game of Pangya. He may have a temper sometimes, but deep inside he can be a softie when he's near Cecilia. His trusty companion Lolo enjoys his comical actions that he does. If he loses against you, don't be surprised if you get arrested.

Cecilia
She is a navigation officer who is participating in the game as a representative of the naval battle cruiser, Silvia. She will do anything it takes to learn how to play the game to absolute perfection. Although she is not interested in her appeals, she decided to show a little bit of her cleavage for some wow factor.

Max
A famous tennis player decides that he wants to change his profession to something that he'll enjoy more. In order to join the S.S.A.F (Silvia Special Armored Force) he will have to partake the game of Pangya to get closer to his dream.

Kooh
The youngest loli player in Pangya. Due to her father's disappearnce, this pirate is now captain of the Lunar Tomb pirate ship. When she heard about her dad's whereabouts located in Pangya island, she decided to set sail in order to find out why he disappeared. She may look small, but she is very powerful. If you decide to sneak up on her for perverted reasons, beware that she is equipped with the lethal Medieval club set with one whack from that weapon will end your life.
Arin
Arin excels as a strong magic user, and a top student in West Wiz university. She has invented a way to transform her bird Hato instead a clubset that is easy to carry around. Although most people in her class prefers their bird to transform into a chicken sandwich. When dark evil arises, her magical abilities are strong enough to purge the darkness that surrounds Pangya island. She is vital to the Pangya world due to her strong magic skills.

Kaz
Once known to rule Pangya island from the power of the demon king. However, Kaz's lover Karen did not want him to have an evil heart so she sacrificed her spirit to save him from evil. When he came to, he has lost the memories that was once important to him. He soon discovers that his presence is in Pangya island. He decides to participate in Pangya to see if it will uncover his lost memories. Although Kaz cannot see Karen's spirit, she will always be by his side in keeping track with him.
Cien
A dragon with blue eyes can transform into a human being. She has a cold mysterious look around her so getting on her bad side may not be a good idea. Remember, she can cast fire in her human form so watch out! She wields a sword.
---
Hidden Characters Revealed

Listing below from left to right.
1)

This creature makes a small appearance in the new trailer. He is indeed a Character that you can play for certain since he's doing his animation before he moves on to the next hole. He appears to be a half-man, half-dragon being.
2)

Leader of the hunting clan who searches for food across Pangya island. Him and Quma are in the same clan.
3)
A mysterious pirate who decides to play a game of Pangya. Could this man be...?
4)

Karen can play Pangya?! How? She's a ghost for christ sake! How would you react if you see a floating club flying around? But if she can be seen by people, then when she conforts with Kaz, she would hope that his memories will not return so he won't remember about becoming a devil king, and losing his love at the same time. It's a burden that's best left to be forgotten.
5)

The elder of all Boos, and leader of the Titan clan. His trusty companion TitanBoo wishes to play the game of Pangya so the elder decides to tag along. He sells clubs to players in Pangya.
6)

The man who created Max's bike to travel around the island at ease. He is a mechanic so to speak. When he doesn't have a vehicle to work on, he decides to play a bit of Pangya himself.
7)

A woman in charge of the items that are on sale to players. She can also upgrade and downgrade your stats whenever you need it. When she feels like playing a round of Pangya, she trusts her partner to keep an eye on the store while she's away.
8)
Shop owner's partner.
(edited since the shadow image is not Lolo)
9)

Captain of the S.S.A.F. She sent Cecilia to present his the battle cruiser, Silvia. He is willing to hire any interested people who wishes to join him. But in order to advertise the navy, he will need to partake a game of Pangya to boost his own ego, and his profession.
10)

Titanboo lives in a small village called Ventus. He loves eating his own ear wax, and then one day he decides to play the golf game. He thinks his own power will make a huge difference between him, and the other participating players.
---
Ok so some of the stuff I said are made up a little bit, but I think it sounds close enough. Now here's something that I'm puzzled about. Remember I said that there are 18 total Characters right? Well lets count. There are 9 starting Characters plus 10 unlockables. That's 19 total isn't it? Well it looks like most of the hidden Characters will be playable from the shadowy banner. Also, Lucia has not been mentioned on being released in this game. A long time ago, they said that they will try and release the Characters from Season one all the way to four. Perhaps she'll appear, maybe not.
All text and code as part of the slgaming.blogspot.com website are

copyright

to Sweatdrop. If any material is posted outside on this page requested to be

credible

to Sweatdrop. Graphic and images are rights to

Ntreev Sof

t.