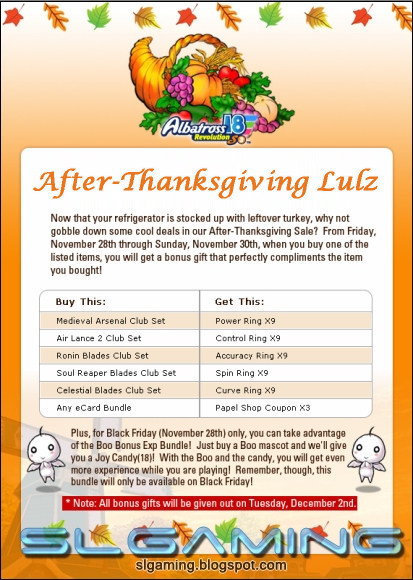 Albatross18 wants to celebrate the community with their Thanksgiving
lulz
. Can it get any more lulz than this? When you thought it couldn't get any more
lulz
than this. Screw turkeys, Hato tastes way better,
lulz
.
Alright so enough with the
lulz
. On to serious business here. Purchasing the selected clubs will give you nine rings that will be gifted next week. Nine?! What a deal! That lasts you up to 9 holes! NINE!
Secondly, if you buy any eCard bundles in the shop, you get three free Papel coupons! Holy crap feather GET!
Finally, if you buy Boo mascot on Friday only, you have to wait next week to receive your free Joy Candies that grants you x2 experience. I'm about to pass out from the excitement! While your mascot's uncontrollable time limit is ticking away, you have to wait patiently for your free candies. It's worth the wait! Imagine having a calender in front of you, and you mark off each day until gift day! All this waiting almost feels like Christmas!
Keke... oh I can't hold it any longer.
LULZ
. If you think this update is awesome, say
lulz
!
This program is brought to you by Hato Burgers. It's magically delicious. Beggingahatoburgerfromarinmayresultextremecaseofmagicalfireburnsfromherabilitesthat
maycausefirstdegreeburnsthatwillruinyourlifeforeversopleasedrinkanddrivesafelyand
becarefulnottorunoveranymedievalclubslyingaroundtheroadandbtwthepicturetitle
inthebanneriseditedbymesothatisnottheofficialnamesopleasedont
getconfusedandpostontheforumaboutwhyitiscalledafterthanksgivinglulzoK