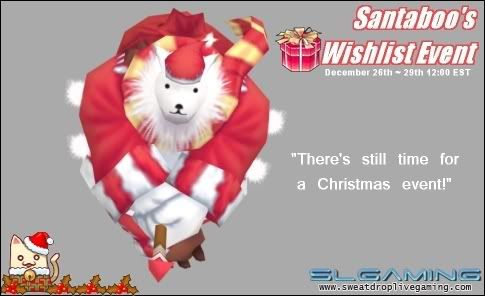 Christmas Day has passed and there is no sight of
Santaboo
anywhere. Luckily I got a hold of him, but unfortunately he ran out of gifts since Lucia demanded mostly all of the rare items. So I decided to give out some of my rares from Pangya US that I like to donate to this event.
---


#1 Nuri Romeo Mask
#2 Kaz Romeo Mask
#3 Max Casanova Mask
#4 Azer Casanova Mask
#5 Kooh Juliet Mask
#6 Cecilia Victoria Mask
---

December 26th 12:00 AM ~ December 29th 12:00 AM (EST)
-Event has ended-
---

- You must write a letter to

Santaboo

asking which one of the prizes you really want and why you think you deserve it.
- Putting time and effort on your letter will give a higher chance of your name being selected.
- Be sure to state your in-game nickname carefully somewhere in the letter where

Santaboo

can read it.
- E-mail your letter to:

santaboo

@sweatdroplivegaming.com
---
- You can only ask for
one
prize only in your letter.
- You must be at least a
Junior C level or higher
to participate. Not meeting this requirement will not be eligible for this event.
- Your letter must be in English. Other languages will be excluded.
- Not following the letter instructions carefully may not count for your entry.
- The prizes are only for Pangya US server only. Anyone with an account on Pangya US can enter this event.
- You may send your letters now.
The event will end exactly at the beginning of the 29th at midnight
. E-mails received after the deadline will be invalid. You may check the digital clock in the upper right corner of the site to verify when the event ends.
- Winners will announced sometime on December 29th. Prizes will be mailed to you on the same day. A new post will be made for this announcement.
- If one of the prizes has not been asked for in any letters, then the prize will not be distributed.
- Due to all the gifting commotion, I can guarantee you that these are all legitimate items from Albatross18 that I received long ago.
- If you have any other questions, feel free to comment here.