Server Maintenance

KST: 11/17 7:00 AM ~ 11/17 12:00 PM
EST: 11/16 5:00 PM ~ 11/16 10:00 PM


Content Updates

1) Merry Christmas Event
- Stocking drop event
- Free aztec ball attendance
- Christmas sales

2) 40th Scratch Rare
- Caddy Costumes

---
1) Merry Christmas Event
● Period

December 17th ~ 29th

● Information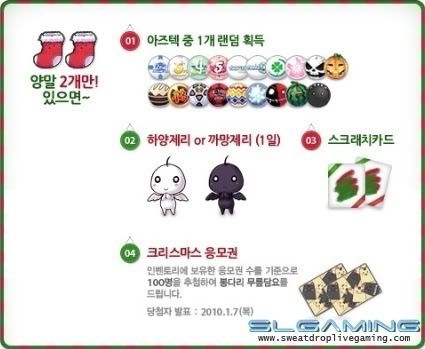 Event 1 - Stocking drop event
For every 3rd, 6th, 9th, and 18th hole, you will receive a Christmas stocking from the hole. You can use these stockings to exchange them in Cadie's Magic Box, or to sell it to people. A new addition this year are 4 different prizes to get with a cost of 2 stockings. You will randomly get one of these prizes below:
1) One random Aztec Ball
2) White or Black Jerry mascot (1 day period)
3) Scratch Card (x1)
4) Christmas Coupon

These coupons are like raffle tickets where 100 players will be selected to win a Papel lap pillow. The more coupons, the higher chance of your name drawn. If you are not from Korea, ignore this item.
The clubs, nose, and sweaters will be available again this year in Cadie's Magic Box. These old items will still have the same requirements like before to get them.
Event 2 - Free Aztec ball attendance


When you log-in during the event, you will receive one blue box.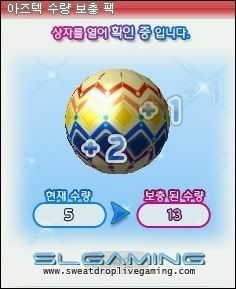 Once you open the box, you select one of your Aztec ball that you own to add a random amount of 10~30 uses. Players can only receive these blue boxes once per day and up to 7 times.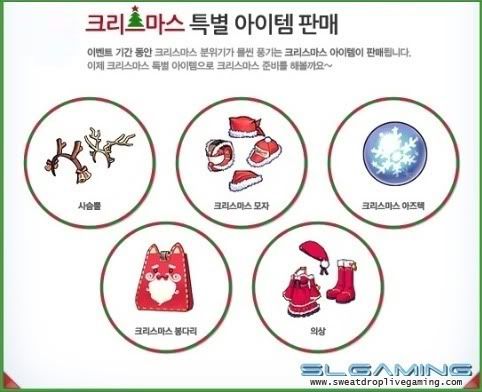 Event 3 - Christmas sales
The picture is self-explanatory. Reindeer hats, Christmas outfits, Snow Aztec ball, Santa Papel skin, and Santa hats will be on sale until the event period is over.
● Notice

- You can buy or sell stockings to other people
- If you receive a mascot from the event, it will automatically be used
- Receive the blue box once per day, and receive maximum up to 7 times

=================================
2)
40th Scratch Rare
● Period
Begins December 17th


● Information


The 40th scratch rare is the caddy costumes available for all Characters. With these outfits, it almost looks like the caddies are playing Pangya.

Max = Dolfini
Cecilia = Tiki
Kaz = Quma
Lucia = Cadie
Arin = Minty
Kooh = Transparent Papel
Azer = Titanboo
Hana = Lolo
Nuri = Pipin (lol)

Some costumes matches the Pangya Characters, while some combination are hilarious.
I suppose making Dolfini's face into Max's helmet was the best they could do.
Nuri and Pipin did the fusion technique to become the perfect Nupin
. As for the bad news,
Kooh is wearing a bikini inside her transparent Papel costume. Good game pedos.
Overall, it's a nice scratch set for their 40th rare. The Lolo costume looks fantastic on Hana so that's probably my favorite caddy costume. I'll probably just nab Minty's wig from someone that plans on selling it. These caddy wigs will be a great addition to customize your different outfits too. Just expect these wigs to be priced above the costumes itself.
● Notice

- Some of the detachable caddy wigs can have their own color variation.

=================================
Other Notices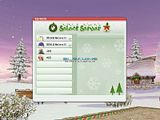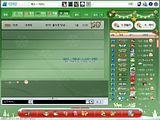 Christmas theme will be updated with a new background and decorations just like how they did during Halloween.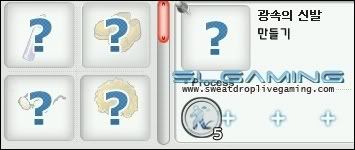 These items are updated to use your prize medals received from the tournaments.
Once you redeem your coin for one of these items, it will be given to a random Character that you can wear and it grants you some wacky abilities that you can perform in the chat room.
Everything is there except for the ring for now.

Light Shoes: Your running speed will be faster. Type /광속 명령어



Shine Glasses:
Your Character will be glowing for ten seconds. Type
/반짝이 명령어


King's Wig: Your head size will be larger. Type
/왕머리 명령어

Giant's Ring(?): Your Character size will grow bigger. Type /거인 명령어
© 2009, www.sweatdroplivegaming.com. All rights reserved. Image material may be copied with no permission. Text contents cannot be copied directly unless it is properly directed to the rightful owner.