Server Maintenance
KST: 12/29 8:00 AM ~ 12/29 12:00 PM
EST: 12/28 3:00 PM ~ 12/28 10:00 AM
Content Updates
1) 8th Motion Item
- Kooh's next animation release
2) New Year's Event 09
- Another holiday event
---
1) 8th Motion Item
● Period

Released on December 29th
● Information
Nuclear mark cannonball, Kooh painting cannonball, Skeleton mark cannonball
Stats: Accuracy +1 Spin +1. Hit Pangya for 3 bonus pang & miss Pangya for 2 bonus pang. Boosts treasure points rate. Drops two event items instead of one. New Tee and Albatross/HiO animation. Obtain from shop w/3 sets for 49 cookies each.
Japan released Kooh's motion item around two weeks ago, and now Korea plans to bring it to their server for this week.

Kooh Bomb Pics: 1 2 3 4 5 6 7 8 9 10 11 12


=================================
2) New Year's Event
09
● Event Period

December 29th ~ January 7th
● Information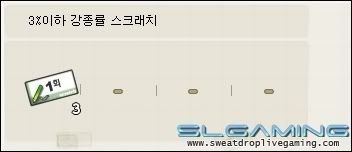 1) Quit Reduction & Bonuses
Players with 8% quit rate or higher can reduce their quit count by 1 for every 15 minutes played. The reduction will take effect on January 12th. Players with 3% quit rate or lower will receive x3 scratch cards in your mailbox per day during the event. Showing manners by not quitting proves to be worth it in the end.
2) Aztec Tigers
When you log-in, you will receive a set of the Tiger Aztec ball in your mailbox. You can receive it up to ten days. When the ball is in-flight, you will hear the ball *rawr* in the air.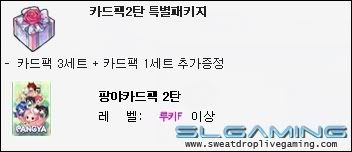 3) Card pack vol. 2 package deal
You may purchase a bundle of three volume 2 card packs and get one more free for 45 cookies. Buying four of them separately would cost you 60 cookies.
4) New Year's resolution sale title
These titles are only available in the shop during this event. At the cost of 1,000 pangs, you can proudly wear this title to celebrate the Chinese New Years.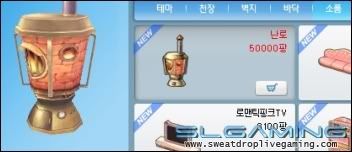 5) Fireplace
Just like last year, it's winter time so it's time to warm up that fireplace again and get some of the sweet potatoes. If you haven't created your own personal fireplace in Cadie's magic box during last year's event, you can purchase it in the shop for 50,000 pangs. Players who already own the fireplace will not have to re-purchase it again.

The regular potatoes gives you 5% exp boost for two hours
The golden potatoes gives you 50% exp boost for two hours

The potatoes are treated like time limit cards. Plus you cannot use both potatoes going at the same time. You may visit other people's room to take their leftover potatoes. You can grab one from your room, while you can grab up to two from someone else. When it runs out, you'll have to wait 24 hours as soon as you received the potato to get your next one. You can only collect up to 3 potatoes per day.

6) Double Pang & Experience
From 12-31-09 ~ 1-3-10. Both double experience and pang event will occur only during 16:00~24:00. Pang and experience will be separate on independent servers.

=================================



Other Notices



- Christmas sales and event ends. Leftover socks will still be available to use in the magic box, or buy/sell to other players until next week's server maintenance on January 5th.



© 2009, www.sweatdroplivegaming.com. All rights reserved. Image material may be copied with no permission. Text contents cannot be copied directly unless it is properly directed to the rightful owner.