Server Maintenance
PST: 12/09 7:00 PM ~ 12/09 11:00 PM
EST: 12/09 10:00 PM ~ 12/10 2:00 AM
Content Updates
1) Gacha Update #5
- Snowflake set #1
2) Stocking Offers for Christmas
- Hole drop event
---
● Information
Snowflake outfits will be released for Nuri, Max, Hana, Lucia, and Kaz. It's no surprise they would bring the snowflake set for this month's Gacha release. We can expect the next Gacha rare will be for the rest of the missing Characters. Whether they will release the next set in the same month will remain unknown. I would suggest that they do release the second snowflake set to catch up just like how they did with the previous Fantasy sets.
● Notice

- The Snowflake Set #2 will look like this from KR
=================================
2)
Stocking Offers for Christmas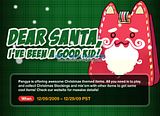 ● Event Period
Stocking Drop: December 9th ~ 29th
Cauldron Prize Exchange: December 16th~29th
● Information

To summarize, red stockings will drop from 3rd, 6th, 9th, and 18th on both VS and Tournament mode. You exchange these stockings along with several consumable items for a specific Christmas item for your favorite Character. However, that won't be available until next week in Cadie's Cauldron.
If you are a comet ball collector, then you can exchange 3 stockings for a random chance of obtaining one that you might not have. You may also receive a mascot as well.
I've looked up about both Santa's Club Set and Jolly Santa Club Set. It looks the same as
Korea's last year
Christmas event with the same requirements to get them on Cadie's Cauldron. So the stats may indicate the same on the US server.
Santa's Club Set
(KR Event)
KR Event Stats: Power 7+1 | Control 7+3 | Accuracy 6+2 | Spin 2+2 | Curve 2+2
Jolly Santa Club Set
(KR Event)
KR Event Stats: Power 7+2 | Control 7+4 | Accuracy 6+3 | Spin 2+3 | Curve 2+3
EDIT:
Luckily I had both the Santa and Jolly Santa Club Set from Albatross18. The strangest thing is that the stats on both clubs are the same. The only difference I can see so far is a sightly different picture icon, gold/silver color difference, and a different Pangya logo. If PangyaUS does not update the stats for this event, then the stats I have posted below will be confirmed for now.
*click thumbnail for larger view*
Santa's & Jolly Santa Club Set
(US Server)
KR Event Stats: Power 8+4 | Control 7+5 | Accuracy 5+5 | Spin 2+2 | Curve 2+2
● Notice

- The source of those stats are from Pangya KR Xmas event as an example
- Cadie's Cauldron exchange will be open next week on the 16th
- If you already own these clubs back on A18, then there's no reason to go for the event clubs
- Confirmation on stats is not certain until next week's update
=================================



Other Notices



So no Christmas outfits on sale yet? Lucia has never received her outfit since Albatross18 stopped at Season 3. It is mentioned that more Christmas stuff will be on the way so I'm sure this will be included in the next update. Maybe even Santa Papel will make its appearance.
EDITS:

10-10 12:00 PM: Xmas clubs stats
© 2009, www.sweatdroplivegaming.com. All rights reserved. Image material may be copied with no permission. Text contents cannot be copied directly unless it is properly directed to the rightful owner.