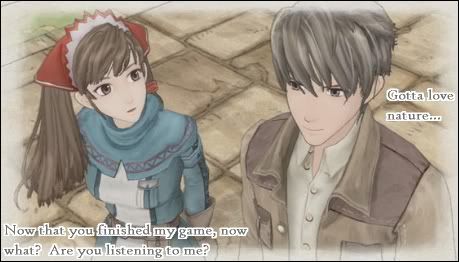 I have finally completed Valkyria Chronicles last night. I thank all the viewers from Justin.TV for watching me play through this game to the very end. There were lots of moments where I got frustrated, but I managed to pull through just fine. Overall, I had a great time with this game than I expected. This is truly Sega's masterpiece in my book, and it's sad to see that this game has not been given much recognition that it deserves. As much as I want a sequel to this, it won't ever happen since Sega is in a tight spot right now, and the praise this game received from USA is not in high demand either. I think I may have inspired some people to get this game too from what I've read in the chat room on Justin.TV. So I'm happy to have played this game on LIVE hoping to inspired other people to try this game out too.
So now that I'm finished with Valkyria Chronicles, what's my next game to play on Justin.TV? I'm thinking about this
one
when it comes out next week. So I may not be broadcasting much until then. I may have Brighton come over to play Street Fighter 4 sometime this week whenever we both have some free time.