Server Maintenance
KST: N/A
EDT: N/A
Content Updates
1) Treasure Island Event
- Takes place on website
---
● Period
October 29th ~ December 1st
● Information
The treasure island tour event is a simple board game where you roll the Aztec dice and move pirate Dolfini to land on winning some cool prizes. Not only you can win a handful of in-game items, but also special prizes such as the Sony netbook, 23-inch LCD monitor, Nintendo Wii, Pangya Wii game, and Starbucks gift certificates. As usual, only Korean residents are eligible for these on-hand prizes.
You have a few number of tries to roll the dice to move pirate Dolfini. Everyone will start out with 5 turns that will help you get started. There are different icons on the board that will do different things when you land on a certain area.
Points = Points will get added to your bar meter. Once it reaches 3000, your account will be entered in a drawing for a chance to win the grand prize: Sony netbook (only 1 can win) or Starbucks gift certificates. (only 10 can win)
Barrel = Does nothing
In-game Prize = Landing on this will be rewarded with the item shown on the picture that will be sent to your mailbox. Each in-game prizes will give you a decent amount inside. An example would be Auto-calipers would give you 20 of them, while Joy Candy will give you 10.
On-hand Prize = Landing on this piece doesn't entirely mean you automatically win it. It's more like adding a raffle ticket on your name to the random drawings at the end of the event. So the more you land on that specific piece, the higher chance of winning that prize. Each on-hand prizes will be distributed in a specific amount such as the Nintendo Wii will be distributed to 3 lucky winners, while only 1 person can win the LCD monitor. There is a raffle for winning the 38th scratch Soul reaper clubset, and that's the only on-hand prize that doesn't consider having to be a Korean resident for once.
=====================================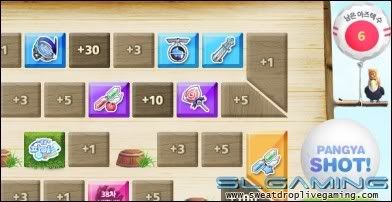 To get started, there is a number on the Aztec ball that shows how many tries you can roll the dice to move Pirate Dolfini. You click on the "Pangya Shot!" icon to activate the dice roll.
A number will appear between 1~6 that will determine how many squares pirate Dolfini will move. In this case, the #4 appears on screen.
Pirate Dolfini will move 4 spaces, and whatever it lands on you will automatically receive it. In this case, I landed on the Time Booster square that gives me 30 Time Boosters sent to my account. After that, you keep going until you are out of turns. It's that simple.
In conclusion, this event is not for you. You can play just for fun and win some in-game items, but that's about it. There's no point in complaining since this game is originally meant to be played by Koreans only. So that's completely understandable. I didn't feel like rushing this information since this event does not benefit much from foreigners one bit. But since I am the only one keeping up-to-date on KR Pangya, I might as well throw this out here in case you are curious on what's going on over there.
● Notice
- It is highly recommended to use Internet explorer to use the event page
- You must log-in to your account to participate in the event
- You will receive 5 free dice roll when you first start
- Just like a typical dice, the numbers will range from 1~6
- You will receive 1 free dice roll when you login to the board game per day (KR time)
- You can receive a green box poping out from the hole that will add to your dice rolls. So using a motion item will grant you two tries as well.
- On-hand prizes (excluding 38th scratch set) can only be redeemed by Korean residence.
- In-game prizes will automatically be mailed to your account
- Once pirate Dolfini reaches the finish line, it'll move back to the very beginning.
© 2009, www.sweatdroplivegaming.com. All rights reserved. Image material may be copied with no permission. Text contents cannot be copied directly unless it is properly directed to the rightful owner.