Server Maintenance
PDT: 10/21 7:00 PM ~ 10/22 12:00 AM
EDT: 10/21 10:00 PM ~ 10/22 3:00 AM
Content Updates
1) More Halloween contents
- Witch outfits + Bogeyman outfit
- Skullfini skin
- Soul Master club upgrade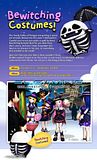 ---

● Period
October 22nd ~ November 4th

● Information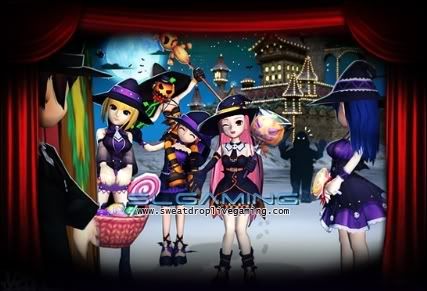 The witch outfits for Cecilia, Hana, Kooh, Arin, and Lucia were considered a Gacha rare according to other Pangya servers, but instead it will be available in the shop to purchase for a limited time. It's a wise decision considering these outfits is not worth gambling for and get a few steps closer to catch up on Korea's scratch releases.
Let's not forget the creepy Bogeyman outfit that is a must-buy for any Azer fans.

Last year ago, Albatross18 launched these outfits as an eCard rare, excluding Lucia since she was not released during Season 3. They also released the Halloween outfits for both the guys and the girls with black overalls to match the dark theme of Halloween. So why isn't that releasing on Pangya US? Ah, but since they are adding more Halloween contents, perhaps there is a small chance that those old Halloween outfits may be coming soon? Only time will tell for that. Here are what they look like below in case you haven't seen it before.

Hana Cecilia Kooh Arin
2008 Halloween Outfits for the ladies

Nuri Max Azer Kaz
2008 Halloween Outfits for the guys

===================



+

=

Soul Master Club Upgrade

It looks like you'll get more for your Soul Reaper club set after all. If you have won a Soul Reaper clubset from Gacha lottery, you may receive a ticket from the blue boxes that you can use to upgrade to a newer version with a darker look, and stats improvement. This upgrade can be done in Cadie's Cauldron.

Soul Reaper -> Soul Master
Power: 16 -> 16 (+0 bonus)
Control: 12 -> 12 (+0 bonus)
Accuracy: 12 -> 13 (+1 bonus)
Spin: 6 -> 7 (+1 bonus)
Curve: 3 -> 4 (+1 bonus)

To sum it up, the stats improvements are only on accuracy, spin, and curve by +1. Not much for improvements right? But an extra spin does make it exceptional though. So good luck pulling a ticket from the blue boxes if you want to upgrade the Soul Reaper clubs first.



● Notice

- Once you upgrade from Soul Reaper to Soul Master club, all of the pang spent on upgrading will be lost since Soul Master will be sent to you as a brand new club. The total amount to fully upgrade the Soul Master club is 184,500 pang.
- What I discovered on today's update is that they added both Lucia and Kaz's Japanese kimono outfits into the file. The old kimono outfits is already stored in the previous files, but both of these Characters are brand new that wasn't added at the time. So what does this mean? Are they planning to release the kimono outfits after all? Korea has done it if you can recall, so I wouldn't be surprised if they do the same. Remember last time I discovered the Vocaloid contents on Korea, and it did come out later on. If you plan on buying these outfits, then save your money in case it does come out. The only guess I can think of to release these outfits is either New Years, or when Eastern Valley course comes out.
EDITS
9/22 10:47 AM - added more information