Server Maintenance
PDT: 10/14 7:00 PM~10/15 12:30 AM
EDT: 10/14 10:00 PM~10/15 3:30 AM
Content Updates
1) Get your Treats Event
- Collecting boxes all over Pangya island
- Free comet log-in attendance
2) 2nd set Gacha Rare
- Soul Reaper Clubset
3) 2009 Halloween Content Update
- New outfits for Nuri, Kooh, Max, and Lucia
- New Comet ball
- Skull Dolfini skin
4) New Halloween Layout
- New design in-game
5) Gacha Coin Sale
- 25+5 coin special bonus
Content Removal
1) 1st Gacha Rare
- Rainbow wings will be removed
2) 3 +1 card pack special
- Bundle price will be removed from shop
---
1) Get your Treats Event
● Period
October 15th ~ November 4th
● Information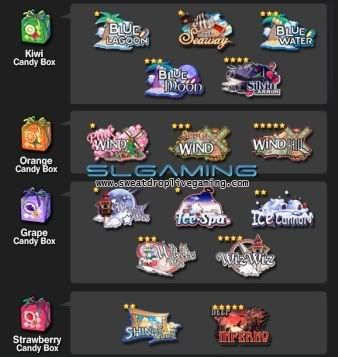 During the event, there will be four different color of candy boxes scattered all over Pangya island. Each color boxes can only be obtained from specific courses. Your task is to play lots of Pangya and you may receive a candy box popping out from the hole. If you don't get a box when you sink the ball into the cup then keep trying until *pew-peew* comes.
Once you have collected enough boxes, you can trade them in Cadie's Cauldron. You will need one box of each color to receive one Halloween gift box. Inside the box will contain a random item inside. Since the event may be handled much different than last year's event in Korea, the description that I will explain for the prizes
may be subject to change
.
Devilly
A mascot won from the Halloween gift box will only last for a limited time. Devilly grants you 10 Mascot Bonus Pang when you hit Pangya, and 5 Mascot Bonus Pang for a Pangya miss.

Halloween Candy
A candy won from the Halloween gift box will grant you double experience points. You will receive x10 of them.
Halloween Club Set
A club set won from the Halloween gift box will be another great addition to your collection. This club set was
purchasable
back on Albatross18 for points. For this
event clubset
, it starts out with zero stats. You have to upgrade this club with a lots of pang to make this club useful. The good part is that it contains the full 12 control amount, but the other stats is not so great. When you hit Pangya, you will get a Halloween
Pangya logo
. This club cannot be traded.

Candelabrum Hat
This item was also purchasable back in Albatross18 for points. The stats are Spin+1/Slot+1 & Curve+1. The hat is nice since the torch is lit to where you can see it burning as you are playing Pangya. This is available for all Characters.

Jack-o-Lantern Hat
A Jack-o-Lantern hat won from the Halloween gift box will show your high spirits for Halloween. Since the hat does absolutely nothing, it does have the glowy eyes effect to make it a fashionable headgear just for looks. This is available for all Characters.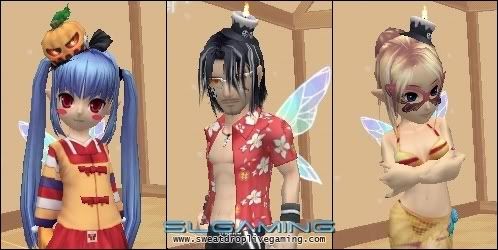 An extra treat for all the players, you must simply log-in each day during the event to receive 10x free comet balls gifted to your mailbox. Only ten free balls per day.
Pumpkin comet GET = October 15th ~ 24th
Skull comet GET = October 25th ~ November 5th


● Notice
- The motion items for Azer, Nuri, and Arin will grant you two candy boxes instead of one box.
- Candy boxes will appear in both VS and Tournament mode. Ghost mode is excluded.
- Halloween gift box prizes will be sent to your mailbox
- You may receive more than one of the same prize
- Candy boxes and the Halloween gift box will be removed from your account once the event ends
- You may win a Jack-o-Lantern hat or Candelabrum for a Character you do not own.
- During the event, the normal Pangya logo will be replaced for this
logo
instead.
- Some prizes are distributed based on its usefulness. An example is the Halloween Clubset would be the hardest to win, but you may commonly obtain a Jack-O-Lantern hat or the Halloween candy.
- Remember that all effects that I've explained could be false since Pangya US may distribute it differently. I will edit the post whenever I come across anything that needs to be corrected. Thank you.
---
2) 2nd set Gacha Rare
● Period
October 15th ~ November 5th
● Information
Soul Reaper Clubset
Power 9+7
Control 6+6
Accuracy 6+6
Spin 4+2
Curve 1+2
Well this is certainly a surprise. Can you believe Pangya US received a clubset that no other server has yet? The clubs look very nice and the stats are absolutely amazing. This stats is the exact copy of the powerful Air Knight 3 clubs on Korea. Surprisingly, this rare will last for just three weeks until we see a new Gacha rare again.
● Notice

- Upon hitting Pangya, you will receive a
special
logo.
- When you hit Pangya, you will hear a
scream
in the background.
---
3) 2009 Halloween Content Update
● Period

October 15th ~ November 5th
● Information

New outfits for Nuri, Kooh, Max, and Lucia. As you can tell it looks pretty much like the remakes of old outfits with a new design to it. Like Kooh looks almost like the fox outfit, and Lucia from her initial starting outfit, and you get the picture.

Smiling Goblin
A new never before seen comet ball that you can purchase in the shop for a limited time. For those who likes to collect comet balls cannot pass this opportunity.

Then we also have a new caddy skin for Dolfini made just for the special occasion.
● Notice

- The Halloween costumes for all Characters are rehashes from the existing outfits.
- The Halloween caddy skin for Dolfini is not present to purchase in the shop

for some reason.
---
4) New Halloween Layout
● Period

October 15th ~ November 5th
● Information
Who knew Halloween was this important to Pangya? During the event, you will be treated to a spooky new layout design to get into the Halloween spirit. I must say, this is done very impressively and I cannot wait until other Pangya version gets this same design too. Again, Pangya US is the first to receive this new layout design.
● Notice

- The log-in background will show Deep Inferno during the event
- The Pangya launcher has also received a new Halloween design
- The Pangya screenshot logo will have a new Halloween theme
---
5) Gacha Coin Sale


● Period

October 15th ~ October 21st
● Information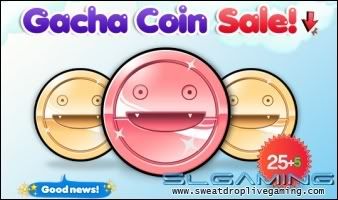 There will be a new payment option to purchase 25 coins and get 5 coins extra for free. You pay more, but you earn more coins in the process. Will it be that difficult to win the soul reaper clubset?
● Notice

- You are basically getting one free coin from the 25+5 coin package for $50. If you buy the 15+3 ($30) and 10+2 ($20) separately, you will get a total of 29 coins.