There are still lots of new and exciting updates rolling for Season 4. The company have been working on their 5th anniversary project for this year. Most of the contents have already been released, while the rest will be coming in later. With all of these new features, we can consider this to be Season 4.5. With that said, Season 5 is still in production, but who knows much of it is completed.
The 5th anniversary project has been revealed for some time on 4gamers site in Japan. Korea hasn't spoken every details about the project, but it looks like some of Korea's contents that are about to release are not in the 5th anniversary reports at all. It looks like the content releases are about halfway done that they have been releasing one by one. Let's take a look on how much their project has accomplished so far. Some contents listed below has been released on major Pangya servers such as Thailand, Japan, and Korea.
Eastern Valley
KR: Released
JP: Released
TH: Released
The new 16th course was hoping to add more variety of courses where regular players can play. However, the new course wasn't enough to satisfy a majority of players so it's currently back to the boring Blue Lagoon and Ice Spa tournaments again on Korea.
Natural Server
KR: Released
JP: Released
TH: Released
Another content that doesn't have much hype either. This was suppose to be made for players who never take the time to learn or do simple arithmetic. The problem is that most of the people regardless if they know how to play the game or not doesn't like to randomly shoot the ball around aimlessly. This server might be great for small events, but the simplest way to describe this new server is that playing real life golf. And that takes the "fantasy" golf sensation away from Pangya.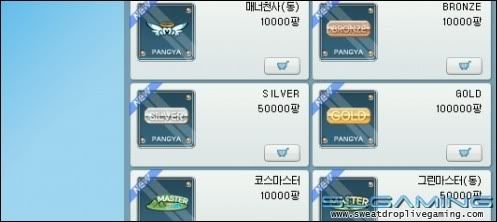 Title System
KR: Released
JP: Released
TH: Released
This is nothing more than bragging rights. Each titles have certain requirements that you must have in order to purchase them. The logo will be displayed on top of your level rank. Proud to be the highest level in your server, well this will take the fun away from it.
Cut-In System
KR: Released
JP: Released
TH: Released
A Marvel vs Capcom moment. Each dramatic thing you do will show a quick portrait of your Character before it commences. Right now there are only a handful of these cut-ins, but more are on the way in the near future.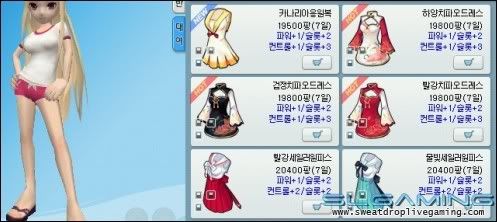 Rental System
KR: Released
JP: N/A
TH: N/A
This is probably the most controversial move on Pangya KR alone. Being able to rent any cookie outfits (excluding seasonal, clothes package, devil wings, and motion item) with pang alone. Sure you can only rent for 7 days, but it's better than buying it with cookies. It may disappoint a lot of players who already bought a ton of cookie outfits that they wished they didn't pay for. Save those for more important things like Mascot rentals, auto-calipers, or maybe even a few card packs or two.
[no related image about this sorry]
Recycle System
KR: N/A
JP: N/A
TH: N/A
If all those worthless items doesn't mean anything to you, then you can recycle and clean up your area and get something in return. Nothing much has been said about this feature except this was first heard from Pangya JPN. As for Korea or any other server, I haven't heard anything about it yet, unless this plan was scraped and replaced with the Rental system.
Tournament Award
KR: N/A
JP: N/A
TH: N/A
By receiving rewards in the tournament, you will be able to use it for something. In Cadie's Magic Box, you can exchange your earnings for prizes.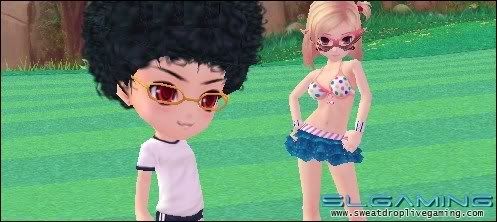 Wacky Chatroom Mode
KR: N/A
JP: N/A
TH: N/A
Make your Characters even flashier in the chatroom area. Big head mode, sparkle, or turbo mode. These are earned from rewards by playing the game.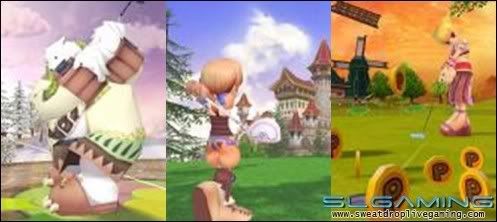 Playable Caddies
KR: N/A
JP: N/A
TH: N/A
Ever wondered if you can play Caddies just like in the PSP version? Well it looks like that wish may come true. Not only caddies may see some light, but also there are caddie upgrades to give them a boost on their caddy stats.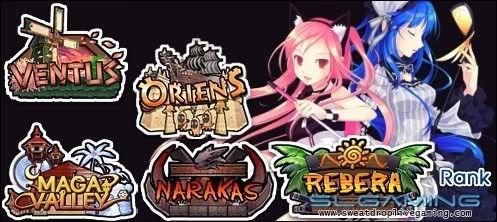 Open Tournament
KR: N/A
JP: N/A
TH: N/A
Tournament will become even more competitive than before. You will earn ranks by competing against players with the same type as you. Each area will designate you to your proper group on Pangya island.
Eye Color
KR: N/A
JP: N/A
TH: N/A
Eye color change will be added to match your setup or your hair color.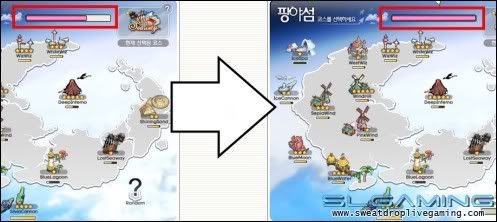 Boss Mode
KR: N/A
JP: N/A
TH: N/A
Boss battle mode where players must compete in the course and fill up that gauge to full as shown on the picture above.
Special Shuffle Course
KR: N/A
JP: N/A
TH: N/A
This new tournament mode will play on different courses and holes throughout the entire round. A very special hole in a moon-like course will take place to add more surprises to this new mode.