Server Maintenance
PST: 11/04 7:00 PM ~ 11/04 11:00 PM
EST: 11/04 10:00 PM ~ 11/05 2:00 AM
Content Updates
1) Papel Shop Update #3
- Devil's Tail
2) Gacha Update #3
- Fantasy Sets #1
---
1)
Papel Shop Update #3
● Period

November 4th
● Information

Name: Devil's Tail
|
Stats: Accuracy +1
Instead of bringing the old A18 rares, they decided to move on to a new set that has never been released before. The only advantage this tail is going to get you is one extra accuracy and that's it. So technically this rare applies more for looks rather than show. Hopefully these rares won't stay for long so they can speed up on releasing something that is worth spending pangs on.
● Notice

- Devil's tail contains its own equipment slot
=================================
2)
Gacha Update #3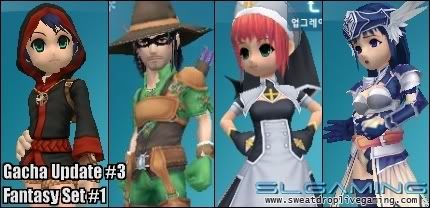 ● Period
November 4th ~ December 3rd
● Information
The Gacha update for their 3rd release is the Fantasy set #1. Your favorite Pangya Characters can dress up in RPG outfits as if you were playing Dungeons and Dragons. Since I added "#1" in the name, that means there is a second set for the rest of the Characters except for Lucia. These rares in Korea were the last Scratch rare to release in Season 3 until they moved up, so that's the reason why she will probably not be included in the Fantasy Set #2. Unless Korea makes an exception of making Lucia's fantasy outfit, but I wouldn't hold my breath on it.

As for me, I'm skipping this set since it doesn't interest me. I'm sure Fantasy Set #2 will come in December so that's two months that I don't have to spend a single coin on. I would highly recommend that you all wait to spend your coins on this set. Who knows that they may throw in some bonus deals to make it easier to win this new Gacha set or not. The only set I kind of like is Arin's Valkyrie set, but that's really about it. I don't think I have to go into details about the semi-re-release outfit for Nuri haha.


● Notice

-
There are two color variations to choose from that you can modify in Cadie's Cauldron.
=================================



Other Notices




- You should receive x18 Twinkle Star Comets for each 18 hole games you've completed during October 30th~November 1st.

- Halloween contents such as the box event, outfits, caddy skins, background designs will be removed. The recipes for making a Soul Master Club & Halloween Gift boxes will still be available until next week.

- Hopefully, Hana's SSAF set will include her missing gloves. As for players who won the set earlier should be compensated.

- Cecilia's Canary Yukata should be fixed with the corrected stats.
© 2009, www.sweatdroplivegaming.com. All rights reserved. Image material may be copied with no permission. Text contents cannot be copied directly unless it is properly directed to the rightful owner.