Server Maintenance
KST: 11/24 8:00 AM ~ 11/24 6:00 PM
EST: 11/23 6:00 PM ~ 11/24 4:00 AM
Content Updates
1) Title System
- A new way to display your achievements
2) New Registration Aid
- Newcomers will receive a small boost
3) Costume Rental System
- Try on outfits for a limited time
4) 39th Scratch Set
- Ultimate Ring & Rose Knight Lucia
5) Special Bundle Sale
- Time Booster & Auto-Calipers sale
---
● Information
Titles are like achievements. Each title badge has certain requirements you have to meet in order to purchase and display it next to your name. These badges will overlap on top of your level logo so the only way to see someone's level is to check their info.

This is a nifty feature, but it does take the gratification away of displaying your high rank since the badges are colorful and more style. All the titles released in this update are listed below. There will be
more titles to come in the near future too. I still like my old platinum frontier badge, but I'm going to use the Pangya shot title because I am proud of my
96.3% rate.



Pangya Shot
Prerequisite: Pangya shot rate must be 70% or higher
Cost: 50,000 PP



Straight Road

Prerequisite: Fairway rate must be 70% or higher

Cost: 50,000 PP

Green Master
Prerequisite: Putt rate must be 80% or higher

Cost: 50,000 PP

Course Master
Prerequisite: Played 18 holes on all courses

Cost: 10,000 PP

Angel Manner
Prerequisite: Quit rate must be below 3%

Cost: 10,000 PP

GOLD

Prerequisite:
Earned 10 gold trophies or more
Cost: 100,000 PP

SILVER

Prerequisite:
Earned 10 silver trophies or more
Cost: 50,000 PP

BRONZE

Prerequisite:
Earned 10 bronze trophies or more
Cost: 10,000 PP
● Notice

- If you already meet the prerequisite before this system was implemented, then you don't have to complete them again.
- Players who had the Frontier or any previous badges will be stored in the title tab section in your "My Room" instead of the setting tab like before.

=================================
2)
New Registration Aid
● Information
Air knight club will be updated to have Power and Control raised up by 2 points while Accuracy is raised up by 3 points. The Necklace of Good Fortune will last to Beginner A instead of Rookie A. When creating a new account, you will receive more stuff that you can see on the picture above.
● Notice

- Only new registrations after this update will receive these starter kit benefits.
- The Air knight club and Necklace of good fortune takes effect automatically.
=================================
3)
Costume Rental System
● Information

If you can't afford or buy cookie items for your favorite Character in the shop, you can rent it instead for a limited time. Available for every Character, you can rent any types of cookies outfits or accessories. It will last for 7 days upon purchase and it costs pang. Yes, Pang. There's absolutely nothing downsized either. It'll have card slots, full stats effect, but it's just available to you for 7 days long until you want to rent it again in your inventory.



This is probably the most shocking and unusual update I've ever seen in awhile. The rented items doesn't cost that much pang either if you play the game regularly or if you are a skilled chip-in player. I do wished I knew about this system way before I bought some cookie outfits because I wanted to wear a new setup. The rental system is an excellent content where you can spend your cookies on other things besides outfits now. Now how about releasing some new permanent outfits for once?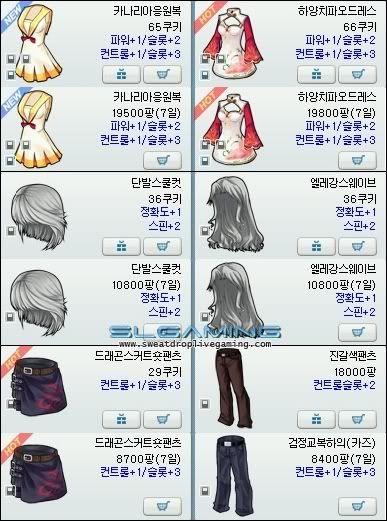 ● Notice

- You heard it right, you can rent Character's cookie outfits for pangs only
- Cannot rent motion items.
- You can attach cards to rented items.
- Event outfits will not be available to rent.
- 7 days is the only time limit available to rent.
- Level restriction is the same as the regular cookie outfits.
- Once expires, you can choose to delete or rehire again.
- Cards attached to expired outfits has to be extracted with vials.
- If you delete rental outfits with cards inside, card will be gone forever.


=================================
4) 39th Scratch Set
● Information

Need I say more about this? Pangya US already released it on their server so I suppose while Korea made this, they might as well make something out of it on their own server too. It's another set worth skipping for me yet again.


● Notice

- Eon (US) and Ultimate (KR) Ring does the same exact thing
- Instead of 3 color choices, they are limited down to blue and red color in Cadie's Magic Box.
=================================
5) Special Box S
ale
● Information



Time Boosters


30 Cookies: 900 + 45 = 945
50 Cookies: 1500 + 150 = 1650
100 Cookies: 3000 + 750 = 3750



Auto-Calipers


30 Cookies: 660 + 33 = 693
50 Cookies: 1100 + 110 = 1210
100 Cookies: 2200 + 550 = 2750


● Notice
- On sale until December 2nd.
=================================



Other Notices



The title system, new registration gift, and costume rental system were meant to be released last Thursday, but they had some difficulties to release it at that time. This update marks the end of the sneak peek contents the GM posted awhile back that I mentioned on this
post
.
Players who funded cookies on their accounts to get free Cat items such as the Aztec ball and clubs is over now. Items will be distributed to these players after next week's server maintenance.

Server Maintenance
PST: 11/24 9:00 PM ~ 11/25 2:20 AM
EST: 11/25 12:00 AM ~ 11/25 5:20 AM
Content Updates
1) New Scratchy Set
- 4th Scratchy Rare
2) Black Friday Sale
- PJ + Nitro Pang Mastery Box Set
---
1) New Scratchy Set
● Information

So far they have released Elfin Ears, Magical Outfits, and Wedding dresses. Today, they have introduced a new Animal set for Kooh. So this makes 4 complete sets that we know for sure that will be released later on.

It's an early update this week due to Thanksgiving holidays, but there's nothing much to say about today's update. It's neither good or bad, it just depends if this set is for Characters that you like and use. I'm no fan of Cecilia, and I already own Kooh's Animal set. So that leaves with Arin and her wedding outfit that I may try for now or later.
● Notice

- Looks like another set that you can't trade to other players. Enjoy having duplicate animal set for Kooh.


=================================
2) Black Friday Sale


● Information
PST: 11/27 10:00 AM ~ 11/27 10:00 PM
EST: 11/27 1:00 PM ~ 11/28 1:00 AM


Well this is a surprise, but what's not surprising is that it's going to cost your Christmas money on this sale. These Pajamas outfits were available to gamble in the lottery system from the other servers, but Pangya US will make it available to buy in the shop for a 12 hour time period on Friday.



However, you must buy the entire package set for each Characters so you cannot buy each parts separately. Each Pajama package will also come with a set of Nitro Pang Mastery to boost your pang amount that is not important on this server. The biggest question is how much these PJ packages are going to cost. If it's really a Black Friday sale, then the price should be reasonable. If it's not, then the Nitro Pang Mastery bundled with the set will be an excuse why the price is high. So we must wait until Friday and see if the special sale is a hit or a miss.


PJ Picture: 1
2
3
Here are what the PJs will look like that are already released on the old servers. I do not know if Pangya US are going to release all the Pajamas including Lucia in there, but I wouldn't see why not. My highest recommendation is Kooh's Pajama set. Her PJ is a special case where you can change in Cadie's Cauldron into a complete different look while some of the other Pajamas would only change the color or texture on it. Two more pajamas that I could recommend is Lucia and Arin's white PJ. Do not get confused since Arin has two PJ sets. The reason why I like her white PJ than her other one is because you can see her bra. (//▽//)
● Notice

- Nitro Pang Mastery will give you x4 amount of pang
- Some of these Pajamas can be changed in Cadie's Cauldron if available
- Some PJ can transform to a whole different look in Cadie's Cauldron if available (ex. Kooh)

EDIT After Black Friday Sale
:
We finally got confirmation that it costs $20 for each set including x50 Nitro Pang Mastery. The price in my opinion is moderately high, but it may have been reasonable if there was an option to change the colors on them. I was really excited for US players to get a chance to get Kooh's PJ because in Cadie's Cauldron it's basically like having two full sets all in one. For $20, it would be an incredibility good deal if they would have thought of adding the PJs to the cauldron.
I have to say this Black Friday sale could have been better. At least if I were them, I would have set the prices on each PJ set independently. You know especially what example I'm going to use that doesn't fit the price, Cecilia. Just a top, bottom, shoe, w/Nitro Pang Mastery for $20. That doesn't sound reasonable at all. All I can say is whoever was in charge of this plan should have think about the most important time of the year, Christmas. I highly doubt players are going to fork over at least $40 of their Christmas money easily when they can use it to buy presents for their friends and family. Right now I don't have money, I'm actually selling stuff on eBay so I can have money to buy Christmas gifts with.
The sale would have been sucessful if they set the prices differently to make each sets reasonable, and made the alterations available in Cadie's Cauldron. If they would have done those two things, I probably would have bought Kooh and Lucia's PJ. I don't like Kooh's default PJ, and Lucia's pink color PJ. Since those two is not going to be available to change to my favorite piece then I'm not interested in buying. And that's why the Black Friday Sale could have been better.
EDIT
11-25 1:09 PM: Black Friday Sale Post
11-25 7:56 PM: Added PJ Box + exotic PJ picture
11-26 8:45 PM: Discussion about official Black Friday Sale

© 2009, www.sweatdroplivegaming.com. All rights reserved. Image material may be copied with no permission. Text contents cannot be copied directly unless it is properly directed to the rightful owner.