I apologize for giving this news on short notice. I've been busy with the Christmas holiday and so forth as my excuse. I've read about Pangya KR doing some short beta sessions once in awhile to test some new contents and modes. The first and second beta test wasn't anything special going on so I didn't talk about it. But the third beta had some interesting stuff that was worth trying out. Card pack #2, special shuffle chaos mode, caddy upgrades, and much more. In order to participate, you must install a different client located on their site that is connected to the closed-beta server. You can use your normal account to get in. Anything you do in beta will not affect on the main server and you will have 10,000,000 pang and 5,000 cookies to test with.
Sadly, I had just found out too late about the third beta announcement so I never had a chance to write a report about it before it happened. The time zone difference was excruciating to me since it was going to start at 3AM in the morning for me. On top of that, the server was not stabled when it had opened and my eyelids were growing heavy. So I really didn't get to do much since I wanted to see whatever it had to offer and head to bed for my 4 hour of sleep for today.
So here is my sneak peek look on Pangya KR future contents from what I've gathered in such a short period of time.
=============================
Testing #1) Card Pack Volume 2

*Please note that translation could be off, and these are subject to change before official release


Finally another card pack has been released. These new additions will certainly help tremendously on your game. Some old card effects have returned along with some old effects from volume 1 have been made adjusted to have effects almost like it. Then we have cards that got an upgrade from volume 1 release, and some never before seen cards added to spice up a new direction of how you play.

Now to talk about some card effects that you may have in question.
Titanboo (Caddy) (SC) (Vol2)
I knew they were going to release this card soon. But the effect description clearly looks like it'll be -2m on everything. However, it has been toned down a bit that you will receive that effect on certain occasion. Winds of 1~5m will take -1m wind while 6~9m winds will take -2m off. I'm not complaining about the toned down effect since I wouldn't want it to be too powerful. This card will also make it where elfin ears will hardly have any value left, let alone using ears with this card combined is not worth it.

Titanboo (Caddy) (N) (Vol2)
I believe it states that any 9m winds you receive will be lowered. Since it's a small effect, it'll probably be -1m wind. With this card equipped you'll never see 9m ever again. This is a good card for those who can't afford expensive cards, and also hate 9m winds. (like me)

Dolfini (Caddy) (N) (R) (Vol2)
You will receive special bonus pang when you make a shot. Sorta of like a Victoria mask. I never had a chance to see how much you get from it, but I would guess you get 1 bonus pang on the normal card and 2 bonus pang on the rare card.

Nuri (Character) (SR) (Vol2)
At first glance it looks like it does what you see, but it's actually given differently than you expect. It's Controlslot+2, Spinslot+1, and -2 yards. You can have a crazy amount of control with this card, but your distance will be subtracted where it's basically like a regular control+1 effect. This card could confuse you if you equip multiples of it so be sure you know what your total distance is with your main power stats and the yard subtraction part in mind.

Mystery (Special) (N) (Vol2)
So... yeah... the effect is absolutely blank. So it does nothing? The name of this card is called broken pieces something. So do we have yet another one of those mystery stuff to pile up with the unknown seasonal cogs now? It's a common card so I hope they didn't include this card just so you have more chance to pull this useless card, unless it does do something. In beta, I tried activating it, but the window confirmation didn't even pop up





=============================
Testing #2) Caddy Upgrade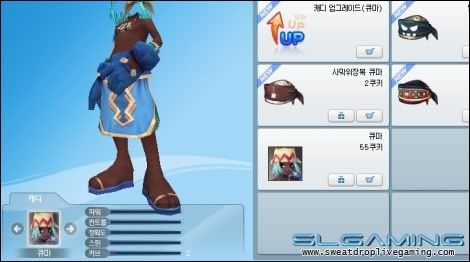 I'm not exactly sure what this is, but it looks like you can boost your Caddie's stats even greater than before. You click on the icon and give em' a boost.



This pop-up shows what additions will be made when you do a Caddy Upgrade. This shows what will be added, not replaced. So in this case, Quma will receive +2 control if I choose to accept.



Now Quma not only has his normal +2 Curve, but also has the added +2 Control as well. Quma will replace Cadie now? I think it's bugged to me so I can't say for sure this new caddy upgrade will be absolute just yet. But do note that caddy upgrades are there and will give more stat bonuses if needed.

It looks like Caddy cost and re-hire fees are more expensive too. Like Cadie's rehire fee used to be 12,000 pang, and now it's 40,000 pang. Could be beta error though.


=============================
Testing #3) Special Shuffle Course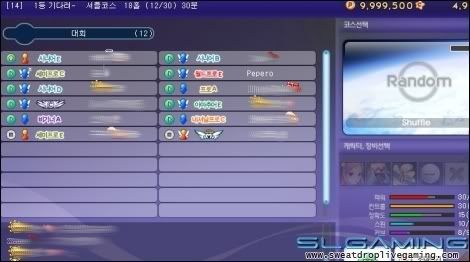 The purple background color indicates that you are in Special Shuffle Course room. It's treated like a normal tournament with time limits and everything. You can start with 10 players too as it'll fill up.
SSC (Special Shuffle Course) is a new mode that you play in a tournament with a mixed of all the courses and holes played out in a single round.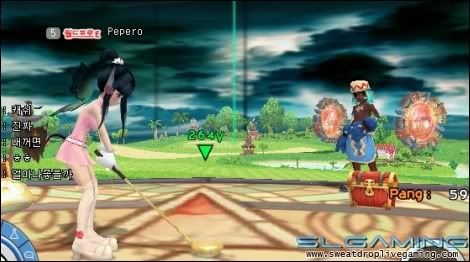 On one hole you might be in West Wiz, and the next hole you are in Lost Seaway. This will continue on through the rest of the 18 hole round. The blue colors give the new mode a different look.
In an 18 hole round, there will be one special hole in there where you are located on a moon like course. It's a special hole where all you need is one shot to either chip or land on the green. Freaky.
=============================
Testing #4) Big Head Mode?!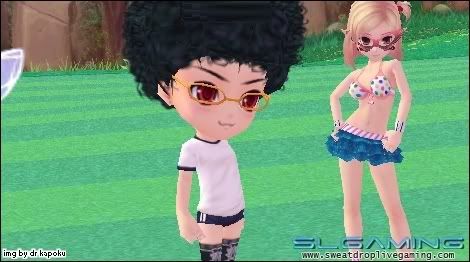 Big head mode?! I never read anything about this feature so I never looked into this, but it looks like you can create funny things in the Player shop room. They should make a Big Bosom mode too. Epic win. : )


=============================
Testing #5) Tournament Coins


It looks like you will get something for winning badges in the tournament after all. In Cadie's Magic Box, you can exchange them for a prize. I like this new idea and I hope they evolve this further to encourage players to play their best in the tournament.

=============================



Testing #6) Sneak Peek Contents



There's more into their closed-beta contents then seeing it in the game. I checked the contents and it looks like they are planning to release some new Gametree products in the Pangya world.




So here we have Hangame Baseball Bat and Aztec Ball




So the PC Bang mascot will be replaced with this one?




The currency title will change from cookies to Hangame for future collaboration.


=============================



Testing #7) Final Word



Alright that should conclude my report of today's closed-beta play through. I covered basically all I saw in one hour with the inclusion of server lag to deal with. I do not know if they will report a fourth beta test or not, but I'll be sure to post about it if I see it coming. But I don't think there will be anymore since a GM spoke in the lobby about implementing these stuff on December 3rd next week. If so, I may have to start back playing Pangya once again that I haven't touched in over three weeks already.



© 2009, www.sweatdroplivegaming.com. All rights reserved. Image material may be copied with no permission. Text contents cannot be copied directly unless it is properly directed to the rightful owner.