Server Maintenance
PST: 11/12 7:00 PM ~ 11/12 11:00 PM
EST: 11/12 10:00 PM ~ 11/13 2:00 AM
Content Updates
1) Gacha Update #3.5
- Current Set + Eon Ring
---
1)
Gacha Update #3.5
● Period

Starting on November 12th
● Information
There was no server maintenance yesterday because of Veterans Day, but they will be having it tonight after all. It looks like there will be a small content update that some of you might be interested in.
Since the current Gacha set is a little dull than the last two releases, they decided to add a new item to make it worthwhile to spend your coins. A never before seen item will be released on Pangya US called the Eon Ring.
Eon Ring
Powerslot+1, Controlslot+1, Accuracyslot+1, Spinslot+1, Curveslot+1
This is a decent ring that is worth adding to your collection. It's good that all stats will contain upgrade slots so you have control of which stats you want to go up. However, players who already own the Crimson ring back in Albatross18 may not need to go for this ring after all.
If you think about it, the important stats to most of us is Power and Control. If you want to improve your drive while ignoring all other bonuses, the Crimson ring will give you +2 yards more than the Eon Ring. Let's compare the other future release rings to give you something to think about.

Crimson Ring
Stats: Increase Wood, Iron, and Wedge distances by +4 yards.
Hybrid Ring
Stats: Increase Wood, Iron, and Wedge distances by +2 yards. +1 bonus added to combo gauge each of your own turn. +1 bonus added to combo gauge will increase regardless if you use powershot or items.
Eon Ring
Stats from my view: Upgrade powerslot to receive a free +2 yards.
Hopefully these comparisons will help your decision to try for the Eon Ring. You still have to go through winning the current Fantasy set as well. Technically, the Hybrid and Crimson ring is better than the Eon Ring from my view. But if you want the extra Accuracy, Spin, and Curve that you can get easily with leftover cards, then go for it. That's why I said in the beginning that this ring is nice for collection purposes only. It's great that Pangya US is getting exclusives once in awhile.
● Notice

- Eon Ring can be equipped on every Character you own, and there are no limits on using the ring.
- There is a chance to win the current Fantasy outfits if you have not won them yet.
- Don't forget that the Physical Ear Plug may come out in Gacha with the stats of +1 everything and +16 units added to your combo gauge.
=================================



Other Notices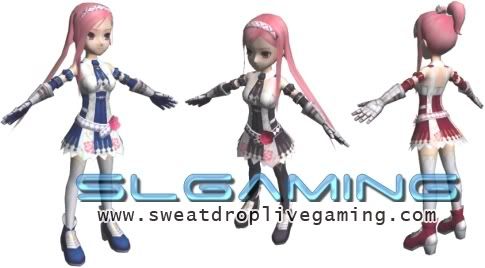 We can all expect the next Gacha rare will be the Fantasy Set #2 to arrive in December. Since the fantasy outfits were released in Korea during their Season 3 times, they didn't have Lucia at the time. For this special occasion, Lucia will be included in the Fantasy Set #2 after all. Here we have another exclusive never to be released on any Pangya server (yet?). Since we know what job title the other Characters have but what about Lucia?
Care to guess what job title Lucia will be receiving?

Pangya Fantasy Job Descriptions
Nuri = Monk

Hana = Cleric
Max = Archer
Arin = Valkyrie
Kooh = Magician
Azer = Berserker
Cecilia = Thief
Kaz = Knight
Lucia = ???



© 2009, www.sweatdroplivegaming.com. All rights reserved. Image material may be copied with no permission. Text contents cannot be copied directly unless it is properly directed to the rightful owner.