Server Maintenance
PST: 11/18 7:00 PM ~ 11/19 12:00 AM
EST: 11/18 10:00 PM ~ 11/19 3:00 AM
Content Updates
1) Gacha Update #4
- Second Fantasy Set
2) Kaz's Earrings
- Kaz's Dragon Earring
3) Thanksgiving Party Game
- Hole Event
---
1)
Gacha Update #4
● Period
Begins November 19th
● Information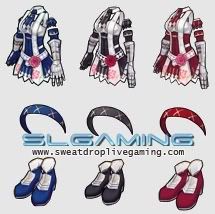 It was no surprise that the second Fantasy set would be coming along with Lucia's never before seen Fantasy outfit. But the biggest surprise was that the previous Fantasy set only lasted for two weeks long. It does make me wonder if they are planning to do the same thing for December's Gacha rare of the possible Snowflower set #1 and #2. You can check my KR guide if you haven't seen the Snowflower outfits before.
● Notice

- Eon Ring will still remain in this set, and the visual effects of the ring should be working now
.

- Lucia should receive three different colors to change in Cadie's Cauldron while the rest of the Characters will have two to select.
=================================


2)
Kaz's Earrings
● Period
Begins November 19th
● Information

Stats: Accuracy +1 Spin +1. Hit Pangya for 3 bonus pang & miss Pangya for 2 bonus pang. Increases treasure point rate. Drops two event items instead of one. New Tee and Albatross/HiO animation.
Lots of players have requested Kaz's earring for awhile and now they will finally get it today. Although I do find it puzzling that they are not going to release Kaz's Dragon Armor set to go along with the earring release. Well that's up to them to sort things out. Anyways, I'm sure you have seen the Kaz's animation video on my YouTube video, but
here it is
in case you haven't seen it yet.
So it looks like Max will have to settle with walking for a bit longer before he gets to ride his motorcycle. There is one more that is missing too, but I won't get into that. Roflcopter~
● Notice

- Unlike the previous releases, Kaz only has one set of earring for his item.
=================================
3)
Thanksgiving Party Game
● Period
November 19th ~ December 2nd
● Information

I almost forgot about a Thanksgiving event on Pangya US because I was busy thinking about what kinds of food I'm going to stuff my face. Pangya US descriptions has always been abstruse
lately, but according to the event to receive a coin (bronze), you must finish on every 9th and 18th hole. You can then trade these coins in Cadie's Cauldron.



The biggest prize is the golden clubs of course. You will have to play a lot to collect and get 3 gold coins for these set of clubs. The stats on it is taken from Pangya KR since I own the club myself over there. As for the other specialties about this club, there's really none. The mascot prize is a joke to spend that much time just to get a single day duration. As for the Harvest Time item, if it was like the Albatross18 then it wasn't worth getting it. I remember opening one during A18 times and it included a random sort of items that I never wanted to see it again. But thank goodness it gives you something better than that.


Golden Air Knight Club
Stats: Power 7+6 | Control 6+6 | Accuracy 5+5 | Spin 2+2 | Curve 1+2
The event looks great and it will certainly keep you busy as you are filling up your stomach during this holiday. Just be sure to remember and spend time with your family too as you are going through this event. Let's hope this event will be bug free too.
● Notice
- The Golden Air Knight club stats is said to be the same as the Korean version.
-
The
Harvest Time item has been confirmed to give you x2 exp items. That's good.
- Log on the 26th~29th, you will receive x40 Popcorn comets for free in your mailbox. These comets are really cool so be sure not to miss this out.
You'll like the visuals when the comet ball is in flight.
© 2009, www.sweatdroplivegaming.com. All rights reserved. Image material may be copied with no permission. Text contents cannot be copied directly unless it is properly directed to the rightful owner.