Server Maintenance
KST: 11/05 6:00 AM ~ 11/05 5:00 PM
EST: 11/04 4:00 PM ~ 11/05 3:00 AM
Content Updates
1) Cut-in System
- Character portraits appear on screen during gameplay
2) Newcomer Outfits
- Several cookie outfits will be sold for pang instead
---
1)
Cut-in System
● Period

Begins November 5th
● Information
This small feature called cut-ins will add something new to the game. Cut-ins will activate depending on the situation, and each Characters will have their own portraits displayed on screen. Depending on what you do such as performing a powershot, making a chip-in, ball lands out of bounds, and possibility more to come.
The only feature that is brought today is the powershot cut-ins for all the Characters. Cut-ins will have to be purchased in the shop, and it's for pang only. More new cut-ins are bound to come in the future so feel free to try this new system out and see how you like it.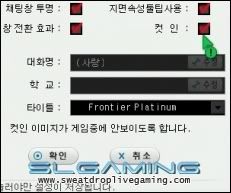 If you ever get tired of seeing these cut-ins, you can disable this feature on the settings menu. Just un-check the box shown on the picture above and it won't show up until you check mark that box again.
● Notice

- Costs 15,000 PP for each cut-ins in the shop
- Upon purchase, it will automatically be activated
- You can disable this feature on the settings menu

=================================
2)
Newcomer Outfits
● Period
Begins November 5th
● Information

Players with the rank of Beginner A or lower can purchase pre-existing cookie outfits and accessories in pang. There are only a few selected though so not every outfits for Character or outfits will be available to novice players. You can easily see the difference by looking at the bird icon next to the item. The stats will remain the same as it was normally.

So obviously when your level is past Beginner A, you won't be able to use these outfits anymore. This new system will hopefully give newcomers a good start to get all the gears they need without having to worry about purchasing with real money just yet.

[Pictures of these pang outfits will be posted up later on. Stay tuned.]


● Notice

-
Players with rank Beginner A or lower can purchase these outfits
- Pang outfits will only be available for these Characters: Nuri, Hana, Cecilia, and Azer
- There are no card slots on these outfits
=================================



Other Notices




-
According to the GM's future content list, the next update will be the third week of November. They will release three contents on that week: title system, rental outfits, and the new registration gifts.
© 2009, www.sweatdroplivegaming.com. All rights reserved. Image material may be copied with no permission. Text contents cannot be copied directly unless it is properly directed to the rightful owner.