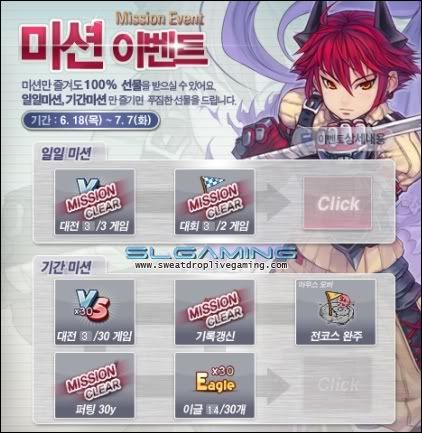 There are two different missions to complete. One is a simple mission that you can receive a small prize per day. The second mission is a little tense, but the reward is bigger.
Pangya Mission #1
Mission 1: Play 3 VS games
Mission 2: Play 2 Tournament games
Once completed both missions, you will receive one random prize per day. If you exceed the number of times played for today's prize, the remaining numbers will not carry over to the next day. You can also win duplicate prizes.
Prizes:
1x Dolfini Headset
1x Mission Coupon
5x Duostar PS
5x Duostar SS
5x Duostar LS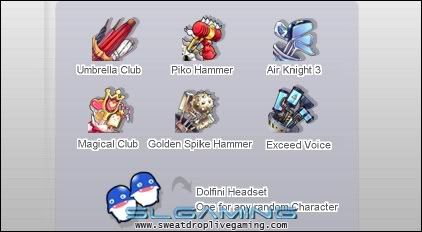 Pangya Mission #2
Mission 1: Play 30 VS games
Mission 2: Achieve a long putt of 30 yards or greater
Mission 3: Achieve a new course record
Mission 4: Achieve an Eagle 30 times
Mission 5: Play a full 18 hole round on every course
Once completed all five missions, you will receive one random prize. This mission can only be done one time only during the event.
Prizes:
1x Golden Spike Hammer Clubs
1x Umbrella Clubs
1x Air Knight 3 Clubs
1x Magical Clubs
1x Piko Hammer
1x Dolfini Headset
* Finishing at least one hole in VS mode will count as a full game if all your opponents leave the room.
* You may use a scroll to leave the tournament room early. The mission will not be updated until the round ends.
* Over 30 yd putt mission must score at least a par or better to count.
* Dolfini Headset have the same effect as the feathers.
* Mission prizes will be sent to your gift box
* Hole-in-One on a par 3 does not count as an Eagle on the missions.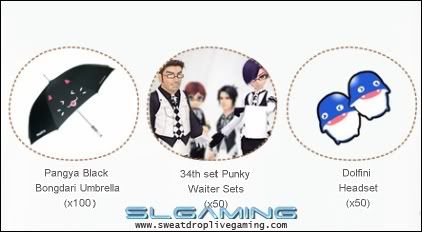 250 Prize Drawings
Mission coupons received from missions will be your raffle ticket. The more coupons you collect, the higher chances of your coupon being picked for a prize. The drawings and the winners will be announced July 7th.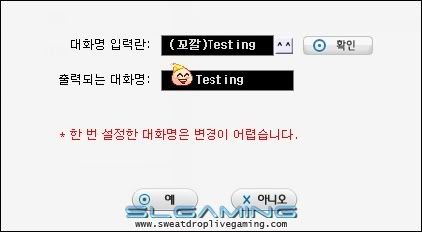 New Nickname Change
As soon as you log in, you will need to create a new nickname. Once created, you will be stuck with that name forever. Remember, this is your nickname so you will still need to use your normal user name when you log in. Choose your new nickname wisely.
Card Vail Removals
Coming soon, there will be a new content on the way to extract cards on outfits. You will need the necessary materials to create three different kinds of card vials in the magic box. The vials that are created will determine what will be done for the card system. There are 18 days to collect the lilies that will pop out from the hole randomly until the magic box system becomes available to create some vials. The lily is part of the ingredients you need to make the vials so start collecting.