Pangya Season 4 Delight on Korea will be having server maintenance on September 24th from 8:00 AM ~ 11:00 AM. Eastern time will be from 7:00 PM ~ 10:00 PM on September 23th. A total of 3 hours of server downtime. Servers will officially open at 11:00 AM (10:00 PM EDT).
---
Content Update
1) 37th Scratch Rare Set
- Physical Ear Plug (PEP)
2)
Autumn Festive Season
- Free chestnut log-in attendance
- Hanbok sale limited time

3) Drum-Cat Concert
-
Invitational event
Content Remove
1) Kimono Outfits
- Limited sale period ends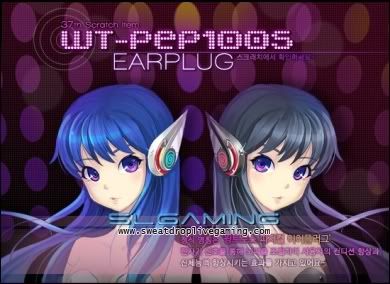 ---
New Scratch Rare
● Information
It is said that the Physical EarPlug (PEP) will enhance the capacity and physical condition of the wearer.
For the first effect, you will receive +1 to all of your overall stats. This is basically like a free power upgrade for players who wants another boost on their drive distance without lowering the control. +1 on all stats is a decent bonus, but thanks to the Card Holic system, this effect doesn't make it a substantial surprise. But, there's one more effect.
For the second effect, you will receive +16 units on your combo gauge at the start of the round. This is good permanent effect without having to rely on rental Caddy skins much. The best part is that you can combine your Caddy skin and PEP to receive a large initial boost. +16 units is about less than half of one bar, but combined with any Caddy skin you are guarantee to receive one full power gauge at the start of the game.
So, is this rare powerful? Not with it alone, but if you combine it with your other equipment, it can prove to be quite useful.
The biggest disadvantage is that it uses an ear slot. That's right, you will have to sacrifice either your feather, fairy ears, or headset for this. However, it's like I said if you combine properly it can be useful.
I will use my setup on my KR account to demonstrate how I would use the PEP item with my other equipment.
- Headset (earslot)
- PEP (earslot)
+
- Cadie card (SCR)
- Titanboo card
- Quma card (R)
Setup #1
Earslot = PEP
Shirt card slot = Quma card (R)
Shoe card slot = Cadie card (SCR)
(extra + Fairy Wings)
Setup #2
Earslot = Headset w/Quma card (R)
Shirt card slot = Titanboo card
Shoe card slot = Cadie card (SCR)
(extra + Fairy Wings)
You are probably wondering what this setup means. Well I'll try to explain this very simple. I do not care for the +1 bonus stats at all, and if I'm going for the extreme combo gauge abuse, then Setup #1 will do just that. However, I would have to sacrifice a Caddy card such as Titanboo to make it happen.
But why would I use a Quma card over Titanboo? If both Quma card and PEP were competing face to face on which would get you the most combo guage, it's obvious that Quma would be the winner. You may not receive the initial boost, but a rare Quma card gives you an incredible boost upon hitting Pangya. It starts to add up the more you play throughout the entire round. Basically, there's no point of using Setup #1 if I want Titanboo card to stay.
Now I hardly use fairy ears because...I have a secret Cadie card and fairy wings with a permanent +3 pixel on my Pangya zone. So I don't really need to use it. So pretty much the difference between setup 1 & 2 is the Titanboo card. One setup grants more combo guage, and the other with lesser plus a Titanboo card.
Some of you are probably thinking that this analysis is way to much. It is, but that's the kind of player I am that gets in depth with stuff like this. If you are the kind of player that wants to know how to gain an upper hand in the high tier competition, these kinds of observations are important. If you don't have fairy wings or a Cadie card, then I would stick to using fairy ears and not worry about this analysis part. ;;
● Notice
- PEP is obviously considered an ear-slot item
- You may change the color of your PEP to silver or black in Cadie's magic box
- Only PEP-100S can be won in the lottery which means a total of 9 rares instead of 18 in the system
- Silver gives all stats +1 & Black gives all stats "slot" +1
Hanbok Limited Period Sale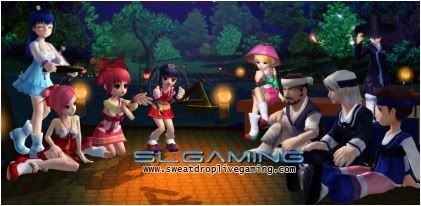 ● Period
September 24th ~ October 6th
● Information
Hanboks will be making another reappearance in the shop for a limited time. Hanboks will come in two color variations to choose from, excluding a few Characters such as Azer, Nuri, and Max. Everything will cost cookies except for the footwear.
● Notice
- The last time Hanboks were on sale for a limited time was on January 19th of this year.
Chestnut Giveaway
● Period
October 2nd ~ October 4th
● Information
This is a simple 3 day period to giveaway chestnuts. When you log in to Pangya KR, you will receive ten chestnuts delivered to your mailbox.
● Notice
- You can only receive this gift once a day
- Chestnut grants you x2 experience
Drum-Cat
Invitational
Concert
● Information
They are a female drum group with lots of stylish moves and wild drumming performance. This group is a hit with the audiences and they have received awards for their popularity. Ntreev will be giving away fifteen free tickets to see the performance in the 2009 Korea Sparkling Festival located in Seoul, South Korea.
● Notice
Autumn is known as a festival season in Korea. They have festivals by watching live performances. This is part of their culture to celebrate the new season. You will see live performance such as
drum rhythms, traditional dances, b-boys break dancing (picture added above for example),
and much more.
© 2009, www.sweatdroplivegaming.com. All rights reserved. This material may be copied online once credited to the rightful owner.