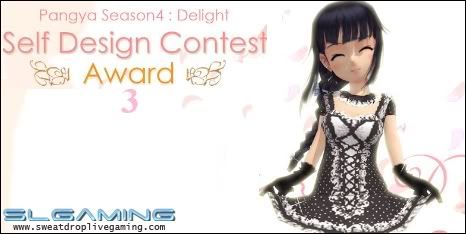 Pangya KR will be hosting their third Self-Design contest this year. This event has been brought up twice last year after the launch of Season 4. What's unique about this event is that anyone that participates will automatically receive something at the end. You must submit your own self-design work in the contest. For this year's self-design contest, the GMs wants to encourage everyone to participate.
How to Enter
To enter, you must log into the site and submit your picture located
here
.
Prizes
x1 - Rainbow Fairy Wings (Lucia) + 1,000 Cookies
x2 - Fairy Ears (Lucia) + 500 Cookies
x3 - Wedding Dress set (Lucia) + 300 Cookies
x5 - Wedding Dress set (Lucia) + 200 Cookies
x100 - 100 Cookies
Up to 111 players can win the prizes above.
---------------
xALL - 25 Cookies
Players will receive 25 cookies just for participation.
Event Schedule
Submission Time: August 7th ~ 21st
Judging Decision: August 22nd ~ 26th
Contest Voting: August 27th ~ September 2nd
Final Vote Winners: September 4th
Summer Sales
Update
The summer sale is only getting started. The new 2009 swimwear sets will be available on August 13th in the shop for a limited time. The new 2009 swimwear has already released in Japan.