Pangya Season 4 Delight on Korea will be having server and website maintenance on July 7th from 4:00 AM ~ 9:00 AM. Eastern time converts to 3:00 ~ 8:00 PM on July 6th. A total of 5 hours of server downtime.
An additional three hours has been extended
.
Servers will officially open at 12:00 PM (11:00 PM EDT).
---
Update
1) Blue Lagoon log-in background
2) Vocaloid outfit in shop (Miku, Len, Rin)
3) Green onion club set limited time
3) Winners from mission coupon announced this Friday
4) Nickname and chat filtering list updated
Content Remove
1) Pangya Event Missions
Bug fixes
1) Card disappearance on possession at random times
2) Kooh premium package set color change from white to black on shoe accessory to match with her profile picture on main site
3) Self design color palette refined
4) Upgrade/download stats error fixed
---
#1 - Hatsune Miku First Appearance on KR
All the craze from Japan video sites and youtube has finally come to Pangya KR. Vocaloid outfits will be released for Kooh, Hana, and Nuri. These sets will not be available for a limited time unlike Japan, so these Vocaloid sets are expected to stay.
Hatsune Miku
Age: 16
Height: 158cm
Weight: 42kg
Favorite Genre: J-Pops, Dance-Pops
Favorite Tempo: 70~150BPM
Best Voice Range: A3~E5
Hatsune Miku
collaboration w/
Hatsune Mi
Kooh
Without a doubt, this outfit will be the most sought Vocaloid set that most people will buy, including me. With the green hair wig included in the set, players can make all sorts of combination with her other outfits.
Entire package set + Kooh: 86 cookies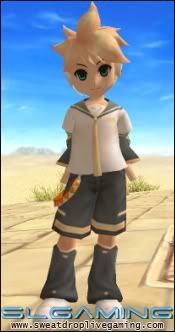 Kagamine Len
Age: 15
Height: 156cm
Weight: 47kg
Favorite Genre: Pop dance & rock / pop-pop songs
Favorite Tempo: 70~160BPM
Best Voice Range: D3~C#5
Kagamine Len
collaboration w/
Kagamine
Ruri
The spiky blond wig really matches Nuri's character. The costume comes with an unusual outfit with something that looks like an arm and leg warmers. Add that with headphones and he's ready to rock the course.
Entire package set + Nuri: 84 cookies
Kagamine Rin
Age: 15
Height: 152cm
Weight: 43kg
Favorite Genre: Pop dance and rock / pop-pop songs
Favorite Tempo: 85~175 BPM
Best Voice Range: f#3~C#5
Kagamine Rin
collaboration w/
Kagamine
Hana
An outfit with a bright appearance while showing some skin for the right balance of style. Her blond wig comes with a large ribbon along with her headphones attached. The wig itself is worth alone to purchase for Hana.
Entire package set + Hana: 86 cookies
#2 - Hatsune Miku Purchase Event
From now until August 4th, when you buy any Vocaloid outfit, you will automatically be entered in the drawing for a chance to win one of the prizes that are listed below:
Prizes
x30 Black Bongdari Umbrella
x50 35th scratch unreleased set
x50 Dolfini Headset for random Character
A total of 130 possible winners. The event ends on August 4th, and the winners will be announced on August 7th. Winners will receive the gift on that date. Good luck.
#3 - What about the leek?
It's here though
Apparently they did release this clubset today. What's amazing are the stats. Comparing the stats from Japan, Korea receives the superior version. However, the voices exclusive for Kooh does not have it like in Japan. That's alright though. The price matches the same as the other cookie clubs, and there are no level requirement. This club will also stay the in the shop permanently.
#4 - Other thoughts
But, what about the new Vocaloid content that is currently going on Japan right now? I believe those updates will come later, perhaps next year is my guess. Today's update on Korea along with the leek club is exactly what was released last year on Japan's first Vocaloid event. So I would not be surprised if approximately next year, Korea will bring the rest of the Vocaloid updates to here. There's still a chance for those content to release this year too. Let's just wait and see.