With Albatross18 out of the picture and Korea experiencing difficulties with their servers, let's take a look at what's going on over at Japan. Sorry Thailand, I promise to post something about you guys next week.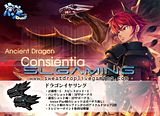 Japan has released Kaz's new motion item to summon the dragon, Consientia from the depths of Deep Inferno. Korea already has this item in their servers. If you haven't seen what it looks like, then check out this
video
link that I posted from Korea's server. The "Dragonfly earring" will equip on his ear (does not overlap elf ears). The earring will perform different animations on both Intro and Alba/HIO.
Around May of last year, they released some exclusive caddy skins that were drawn by the community. They were handpicked by the team, and the winners will have their designs brought into the game. The caddies selected last year were Lola, Titanboo, and Tiki. There are four caddies left, so they brought back this event again for the people who is ready to unleash their creativity once again. Four caddies were picked, and only two will be brought in the shop. The two selected caddies are, Pipin Rabbit and Ninja Quma skin. Congratulations to these artists.