Server maintenance is a day early due to the holiday. Korea developers will be planning to celebrate their holiday this week to have a large feast with their families, almost like a Korean Thanksgiving day. Server downtime is only a mere 2 hours, but there is an update after all.
Arin's Feather Earring
Ok, this part is a huge surprise to most of us. This item is probably the most popular item out of all the other Characters so far. What's puzzling to me is their motion item release order. Here's a breakdown on the order the motion items were released on the other servers:
KR Server:
Azer > Max > Nuri > Hana > Kaz > Cecilia > Arin
(Kooh and Lucia not released yet)
US Server:
Azer > Nuri > Arin
Well regardless on their order release intentions (besides money), this will be a great update for Arin fans who have seen my popular
video
showing how it looks in the game.
---
3 + 1 Card Deal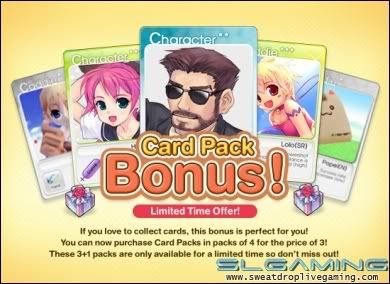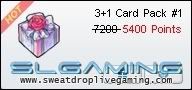 This has been done already in Korea, and it's no surprised that it's happening here too. You buy a package with the price of 3 card packs and get an extra 1 pack for free for a limited time of course. Luckily, I haven't bought that much card packs since I'm mostly waiting for the
card extraction
update.
---
Ventus Event Ends
The winners for the Ventus coupon event has been announced on
here
. I've read some people got upset that the event ended a day earlier while some people were almost done with the event. I didn't bother doing the mission event since... I already have all of those clubs from OGP haha.
About that Bonus Event?
Bonus Coin description
Beginning September 27th until September 29th 07:00PM(PDT), for every 5,000 Ntreev Cash Points recharged we will give out one free Gacha coin!
Bonus Scratchy description
Beginning September 25th until September 27th 11:59PM(PDT), rare item drop rates from Scratchy Card will be doubled! In addition, you'll receive 2 Scratchy Cards for every 1000 Ntreev Points spent from September 25th ~ 27th PDT as well!
Again, the dates has changed due to the holiday issue. Funny enough, these changes made it possible to get both Scratchy and Gacha coins bonuses at the same time. So yes, I purchased points on September 27th, and sure enough I still got my double Scratchy cards, and after server maintenance, I got my Gacha coins added to my account as well. It's a good thing I waited.